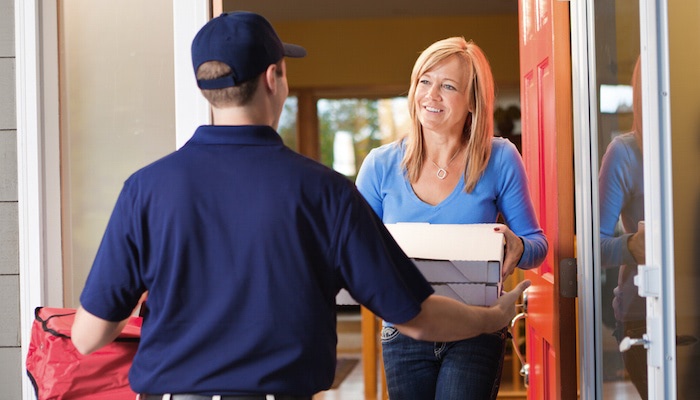 Legend has it that the first official pizza delivery happened in 1889, when King Umberto I of Italy and Queen Margherita of Savoy desired some delicious local cuisine, but didn't desire to mingle with the masses. A famed Naples pizza chef was happy to provide the royal treatment, so to speak, and trundled three different pies—fully cooked and piping hot—from his kitchen to the doorstep of the king and queen.
What was unorthodox then has manifested into a $30 billion industry, and experts report that with the steady rise of online and app ordering, food delivery is poised to grow to $210 billion (roughly the equivalent of the amount currently spent on off-premise dining on the whole). With Toast Restaurant Management pollsters finding 57% of their survey respondents order from restaurant websites on a monthly, weekly and even daily basis, the 7x-increase isn't unrealistic.
Pizza is still claiming the majority of online delivery ordering by about a 2:1 margin over the closest category competitors of Asian cuisine, sandwiches and non-pizza Italian food — but that's hardly a reason for pizzeria owners and operators to rest on their laurels. Given all the options available and the increasing dependence on delivery, remaining competitive means coupling consistently delicious food with a memorable experience that will have customers dialing your number the next time they want a restaurant-style meal in the comfort of their own home.
Pizza pros and forward thinkers in other food categories are exploring delivery innovations meant to make delivery easier for operators, play up the convenience of delivery and provide an unforgettable wow factor:
Delivery is a substantial part of the restaurant industry, and only getting bigger. Outside the (pizza) box approaches are necessary to remain relevant among competitors and customers. Start or refresh your delivery service with the tips you'll find in our free guide, How to Offer a Profitable Pizza Delivery Service. Click the button below to download your free copy.