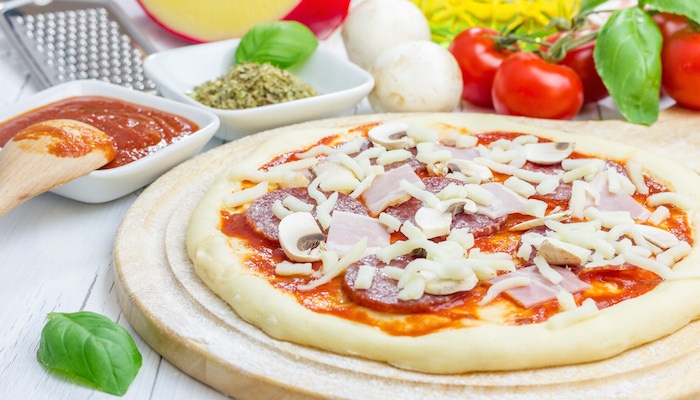 People love pizza! On average, Americans gobble up 23 pounds per person per year, and the pizza industry proves it with multi-year sustained growth—most recently reported as 2.35% in 2016.
People also love food choices that offer freshness, value, convenience, customization and enjoyment in their home on their own schedule. It's a perfect recipe for take 'n bake pizza, as attested to by multi-million dollar annual sales figures reported by the pizza industry's take 'n bake behemoths.
Take 'n bake is in-demand, lucrative and undoubtedly competitive. Simply offering the option isn't enough to keep your operation in the game. You have to transcend the "bandwagon" mindset and give customers a reason to choose your pizzeria over others. Here are four ways to differentiate your pies from the competition and appeal to your customers' appetites for upscale offerings:
Feed their imagination
Your pizzeria isn't a restaurant—it's a quaint Italian eatery. Your take 'n bakes aren't pizzas—they're artisan-inspired creations. Choosing words that suggest an experience beyond a typical mealtime puts your pies in a category all their own, both intriguing customers and driving sales.
Clear your social conscience
Purchasing ingredients from local sources does more than boost quality, freshness and flavor. It demonstrates your commitment to the community—two factors which speak directly to Millennials, who tend to favor socially responsible spots when choosing where to spend the roughly $3,000 each of them earmarks for dining out every year.
Sweeten the deal
Complement your savory take 'n bake pies with a sweet treat, offered either as a menu add-on or as a surprise-and-delight freebie. As your customers are finishing up their at-home meal with that perfect-bite chocolate chip cookie, mini-cinnamon roll or other heat-and-eat treat, they'll make a mental note to visit your business again.
Get (wood) fired up
Due to preparation logistics, take 'n bake pizza and wood-fired crusts are not traditionally paired—until now. In addition to a variety of par baked crusts perfect for take 'n bake, Alive & Kickin' Pizza Crust now offers an Authentic Wood Fired Crust that delivers premium appearance, flavor and texture of this customer-pleasing upscale crust without the need for a wood fired oven or specially skilled prep cooks.
Properly positioned, take 'n bake pizza can be a boon for sales. Make sure the profits stay in your pocket by tracking your ingredients, costs and margins using the Pizza Ingredients & Costs Calculator. Click the button below to download your free copy of the interactive Excel worksheet or printable PDF.