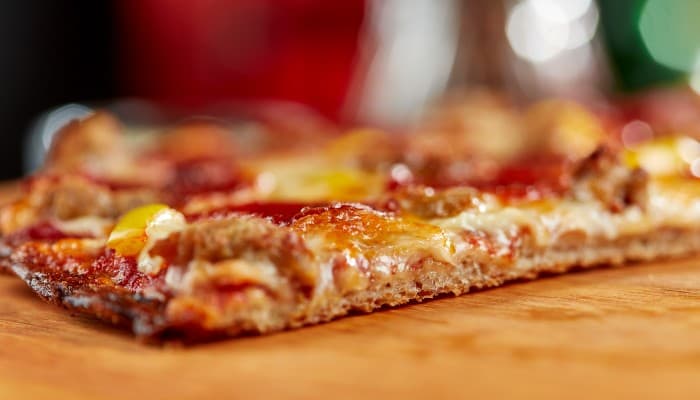 In a recent poll, 21% of respondents stated that if they could only eat one food for the rest of their lives, it would be pizza.1
With that amount of love for pizza, there is a lot of chatter around favorite types, toppings, and of course the ongoing thick or thin crust debate. But, for 18 million Americans with non-celiac gluten sensitivity2, there is a larger question: Can I eat pizza?
Gluten free pizza crusts dispel concerns for most of this group. Let's take a look at gluten free pizza crusts and regular par-baked crusts to determine why.
Gluten Free Crust vs. Regular Par-Baked Crust: What Matters and Why
Obviously, the main difference between gluten free pizza crusts and regular par-baked crusts is a lack of gluten. But, what does that mean?
"Gluten" is a general term for proteins found in wheat, rye, barley, and triticale (a wheat/rye hybrid).3 The main function of gluten is structure. Think of it as the "glue" that helps food — in this case, pizza crust — hold its shape.
Gluten is also the trigger ingredient for those with celiac disease or non-celiac gluten sensitivity, with ingestion potentially leading to a number of health complications.3 As a result, enjoying pizza made using par-baked crusts containing wheat flour is simply not an option.
But, that doesn't mean pizza is "out" for the millions of Americans with gluten reactivity. Gluten free pizza crusts solve the dilemma for pizza lovers, and the $3 billion gluten free pizza crust market suggests healthy profits for operators that offer them.4
In gluten free crusts, the traditional gluten-rich flour is replaced with a combination of flours and starches that are naturally gluten free. Topping the list are rice flour, almond flour, potato starch, and tapioca starch. All are suitable substitutions, and even provide the added benefits of eliminating genetically modified organisms (GMOs) and preservatives.
Banish the "Blahs" with Alive & Kickin' Gluten Free Crusts
In addition to health considerations, upticks in the popularity of plant-based foods and flexitarian or vegan lifestyles continue to drive demand for better-for-you options. Tackling the perceived "blah" factor in gluten free pizza is imperative. It can seem difficult given the inherent obstacles, and even out of reach when the inevitable gluten free crust and regular par-baked crust comparisons occur.
The struggle is real, but so is the solution. The Alive & Kickin' pizza dough and crust experts have cracked the code when it comes to crunchable, craveable gluten free pizza crusts you can proudly serve alongside regular par-baked crusts.
Our gluten free crusts give you choices in:
Taste: Sink your teeth into original gluten free or cauliflower crusts
Type: Traditional, raised edge, personal size Detroit style — what's not to love?
Lifestyle segment: Vegan and non-vegan crusts, all without GMOs or preservatives
Check out how Alive & Kickin' better-for-you gluten free crust options are better for your operation, too. Access our fact sheet, Gluten Free Pizza Crusts: Better Choices for Better-for-You Eating. Click the button below to get started.
SOURCES
1Reader's Digest, This is Officially America's Favorite Food — It's Not Burgers, July 12, 2021
2Beyond Celiac, Non-Celiac Gluten Sensitivity, Undated
3Celiac Disease Foundation, What is Celiac Disease?, Undated
4Grand View Research, Gluten-Free Pizza Crust Market Size Worth $3.1 Billion by 2025, August 2019