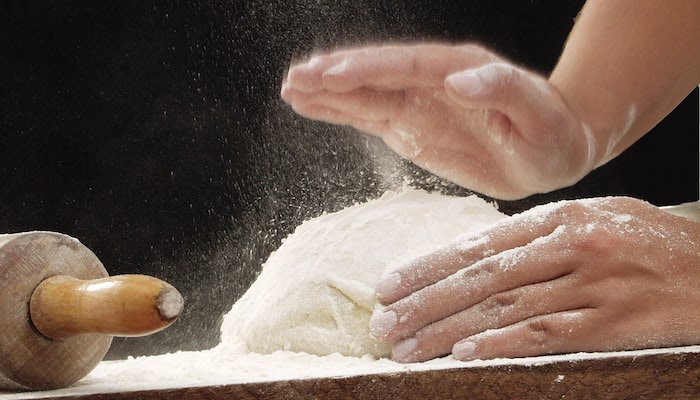 Our Pizza Crust Types series has explored many varieties: whole grain, multigrain, flatbread, par-baked and self-rising. All have their own distinct charm, but perhaps none offer more versatility and scratch-made taste than dough balls.
Why dough balls?
Dough balls are just that — balls of dough that are pre-made and frozen to accomplish two main goals: cut prep time and create crust production consistency. But, don't let the basic definition fool you. Dough Shop® by A&K Dough Balls are incredibly adaptable, ranging in size and type to fit the bill for a number of applications from appetizers and entrées to desserts.
Types of dough balls
At Alive & Kickin' Pizza Crust, our dough balls fall into one of four categories:
Custom: Any recipe, any size from 4 to 30 ounces — we can create perfectly proportioned, proprietary crusts that are consistent and flavorful with minimum labor, equipment and ingredient handling
High-Gluten: The most popular dough ball type, known for its crispy-outside, slightly chewy-inside texture and superior hand tossing or sheeting capabilities
Hotel & Restaurant Flour: A little less chewy, a little more soft and bread-like for thicker pizzas and breadsticks
Specialty: Patron-pleasing focaccia, take-and-bake and classic Neapolitan crusts are available in low-labor dough balls
Don't miss the other articles in our Pizza Crust Types series:
Dough ball performance
Dough balls are an easy go-to for low-prep, high-quality crust solutions, but they do require some care in proper storage and preparation techniques:
Storage: Dough balls require sufficient freezer space since they arrive from the manufacturer frozen. They should be kept frozen at 0ºF and used ideally within 90 days (180 days maximum).
Preparation: Rolling out or hand-tossing a dough ball is best accomplished after it has thawed (aka "proofed") for 24-72 hours on a dough tray, placed in a cooler where it will receive maximum airflow. The tray should be wrapped with film or a bag before placing in the fridge to keep the dough balls from getting dry. The refrigerator/cooler should be kept at 34º to 40º F, allowing the yeast to rise. Letting the dough ball stand at room temperature for about an hour prior to use maximizes performance.
This necessary lead time means training your staff on when and how many dough balls to remove from the freezer in advance to prepare for busy days of the week. For more pro tips on proofing pizza dough, click here.
Menu-boosting uses for dough balls
We've already mentioned the customization capabilities, but it bears repeating. Dough balls work great for custom recipes, plus they can be "clean label" compliant, so you can take advantage of natural ingredient trends and attract health-conscious patrons.
What's more, dough balls offer characteristics that make the most of almost any oven type, including brick- or wood-fired, conveyor and deck ovens. This means they work well for a variety of pizza styles too, from hand-tossed New York style to deep-dish Chicago. Neapolitan pizzas, for example, really shine when made atop a dough ball crust and baked in a high-heat brick- or wood-fired oven.
Our Pizza Crust Types Series provides great information about crusts, and you can learn even more about how to incorporate them into your menu by downloading The When, Why, and How of Menu Upgrades. Download your free copy now by clicking the button below.