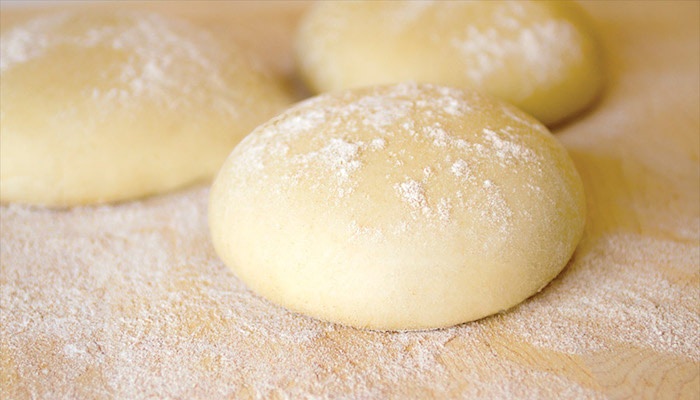 Food quality and consistency is a top priority for pizza restaurant and commercial kitchen operators, especially those with several locations or large volumes to manage. Par-baked crusts, like those from Alive & Kickin' Pizza Crust, are the preferred solution among operators since they offer uniformity, easy prep and delicious variety.
Interestingly, the loyalty operators have to par-baked pizza crusts doesn't always extend to a comparable product — frozen pizza dough balls. While frozen dough balls offer conveniences similar to par-baked crusts, and even provide innovative ways to expand menus with non-pizza items, they are sometimes perceived as difficult to manage and prepare.
To help you better understand the quality, versatility and customer-pleasing pizza styles you may be missing out on by not using frozen dough balls, let's examine and debunk several popular misconceptions:
Myth 1: Frozen dough balls take too long to proof and require extensive training
Some operators assume that any time saved by using frozen dough balls instead of scratch-made dough is considered "lost" during proofing and having to bring the back-of-the-house team up to speed on proper usage.
The truth is…
The ideal 48- to 72-hour proofing cycle is easily managed with a little planning, and doesn't disrupt service because the regular freezer-proof-prep-serve rotation ensures fresh dough is always thawed and ready to use. Like any process, it will take your staff a little time to adapt, but compared to teaching scratch-dough making techniques, training is nominal. With frozen dough balls, your team simply needs to learn the signs of proper proofing:
A slightly yellow color prior to cooking

Volume that is nearly double that of frozen dough balls

The dough ball holds an indentation when gently poked

A finished product that is golden brown with small to medium blisters and no gum line
Myth 2: Frozen dough balls cost more than scratch-made dough
When tasks like making dough can be accomplished in-house, the convenience of frozen, pre-portioned dough balls may be looked upon as an expensive and unnecessary luxury.
The truth is…
Using frozen dough balls actually help you scale back costs by eliminating the expense and maintenance of commercial grade equipment and minimizing bulk ingredient inventory and required storage space. Further, it could reduce insurance premiums because of the lowered liability risk — employees are less exposed to the potential injury-inducing dangers of machinery or heavy-lifting mishaps.
Myth 3: Frozen dough balls are labor intensive
Compared to par-baked crusts, the multiple steps needed to ready frozen dough balls for use can seem difficult and maybe even a bit overwhelming for the back of the house team.
The truth is…
Separating proofing time from preparation time brings the convenience of frozen dough balls into perspective. A properly proofed dough ball need only sit at room temperature for about an hour before it's ready to roll out. You might also choose to hand-stretch dough balls in a few easy steps.
Myth 4: Frozen dough balls cannot match the quality of scratch-made dough
Operators used to controlling the recipe and process of scratch-making dough may be skeptical of the level of care taken by a supplier when producing frozen dough balls.
The truth is…
Preferred pizza dough ball and crust suppliers stake their reputations on quality. Alive & Kickin' Pizza Crust frozen dough balls are made with premium ingredients, meet clean label specifications and are frozen immediately to maintain maximum freshness for up to 180 days. Since there is no deviation in method, standards or environmental conditions, operators can confidently use frozen dough balls knowing that consistency and quality meet — or easily exceed — scratch-made dough.
Myth 5: Frozen dough balls are unnecessary if par-baked crusts are being used
Convenience and variety make par-baked crusts the standard go-to for many operators, generally to the exclusion of other pre-made products.
The truth is…
Using both par-baked crusts and frozen dough balls expands opportunities to deliver on customer expectations for the perfect pizza, be it deep dish, thin and crispy or somewhere in-between. Par-baked crusts fit the bill deliciously for thin pies and take and bake options that are baked off at home. However, frozen dough balls are second to none for thick and chewy New York style, Neapolitan or custom hand-tossed pizzas.
Learn how dough balls fueled the growth of Spicy Pie Pizza in Fargo, ND by reading our case study below!