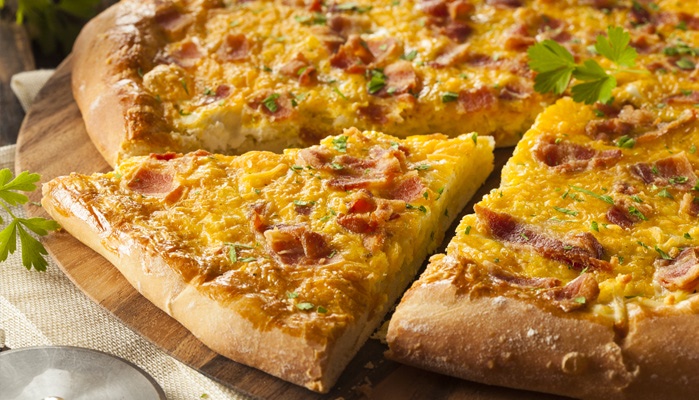 2018 is officially halfway over, and if you're looking for a mid-year boost to your menu, you came to right the blog. In our infographic, Fully Loaded: The State of Pizza of Nation in 2018, we examined the biggest trends impacting the pizza industry this year. From new experiences customers desire to their favorite toppings, the infographic provides many illuminating insights about what customers want from today's pizzerias.
One of the biggest things customers want in 2018 is new menu items. The food world is constantly evolving, and today's food lovers are always seeking out the latest trends and fads. If you feel like your menu could use an update, here are four trends and menu items you can add to attract more customers:


1. "Chef-driven" artisanal creations
With numerous TV shows and YouTube channels highlighting some of the best chefs in the world these days, many customers want to eat somewhere where they can find the creations they see on TV and online. Having a "chef-driven" menu with artisanal ingredients is one way to attract patrons who are looking for that more unique, upscale pizza experience from a top chef.


2. Old world, authentic recipes
Similar to how today's patrons want artisanal ingredients, they also crave an authentic pizza experience. While modern pizza options like custom crusts have provided a breath of fresh air to the industry, the pizza traditionalists are making their voices heard as well. Old world, authentic recipes like Margherita and Sausage Arugula are becoming incredibly popular with today's customers, as they want to experience pizza in its most traditional form.


3. "Hyper-local" ingredients
For regional pizza chains, having a menu that uses local ingredients can be a big selling point to your customers. Whether it's a local specialty pizza or incorporating locally-sourced ingredients in all your menu items, today's patrons enjoy supporting restaurants that use locally sourced ingredients. In fact, "hyperlocal" is the #1 culinary trend for 2018, as customers look for menu items that are sourced (at least in part) from within their own community. From fresh lobster pizza in Maine to incredibly cheesy blends in Wisconsin, there are numerous ways restaurants across the country can appeal to their local audience.

4. Breakfast pizza
Pizza for breakfast is nothing new, but breakfast-inspired pizzas with bacon, eggs, cheese, sausage, and more, have been growing in popularity for quite some time. Especially for c-stores and take n' bake chains, breakfast pizzas have been a huge hit with customers, and can help set your menu apart in 2018.
Whether you add more artisanal, authentic, and locally-sourced ingredients, or try out some new recipes, adding these items to your menu can certainly help you stand out from the crowd in 2018. Want to learn more about the different pizza trends sweeping the nation? Read our Fully Loaded: The State of Pizza of Nation infographic below.