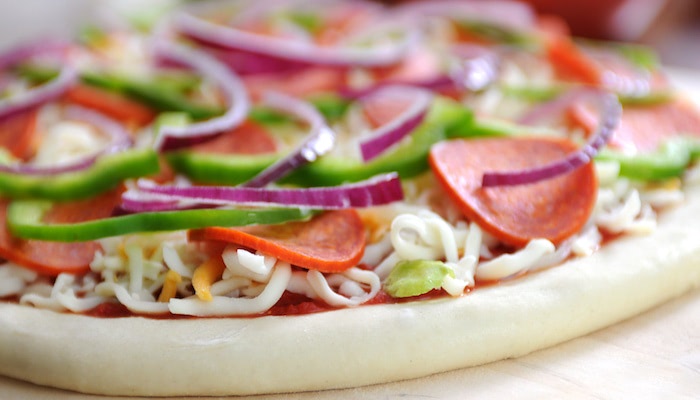 When the pizza urge strikes, convenience alone isn't necessarily going to satisfy hungry patrons. They want to sink their teeth into a slice of pie that's even better than they imagined. They want a pizza experience, and it all starts with premium ingredients that a low-cost, commodity pie won't be able to deliver.
Be tops in toppings
Fresh ingredients are game changers. There's simply no comparison to the taste, mouth feel, and aroma of peak-season veggies sliced and served atop a pie covered in high-quality meats and bubbling cheese.
However, there's an important fact about using premium ingredients that often gets overlooked—increased moisture content. Not accounting for the extra moisture fresh veggies and meats contain as compared to their dehydrated or frozen counterparts can wreak havoc on pizza quality. More moisture means an increased potential for soggy crusts and other performance challenges—none of which are very appealing to patrons.
Crusts are a must
You can avoid pie ruin if you plan for the known issues that premium toppings may present (like added moisture). Choose crusts and dough balls with the structural integrity to handle the unique properties of fresh ingredients, and the flavor profiles to complement nearly any taste combination.
New and unique recipes like loaded baked potato, toasted asiago, honey Sriracha, salted pretzel, and even curry served up as options alongside traditional pizzas will send a clear message to patrons: this is no commodity pie. You could even create unique rustic recipes like focaccia flatbread topped with artichokes and tomatoes, or wood-fired pizzas with custom garlic butter crusts. The only limit is your imagination when you work with custom crust experts like Alive & Kickin'.
Patrons won't confuse custom with commodity when you take the time to pair premium ingredients with crusts that surprise and delight. You'll deliver the pizza they crave, the experience they want, and a value that will keep them coming back for more. At Alive & Kickin', we offer a wide variety of unique custom recipes for pizza makers who want crusts that make a delicious statement. Give us a call today at (920) 662-0304.