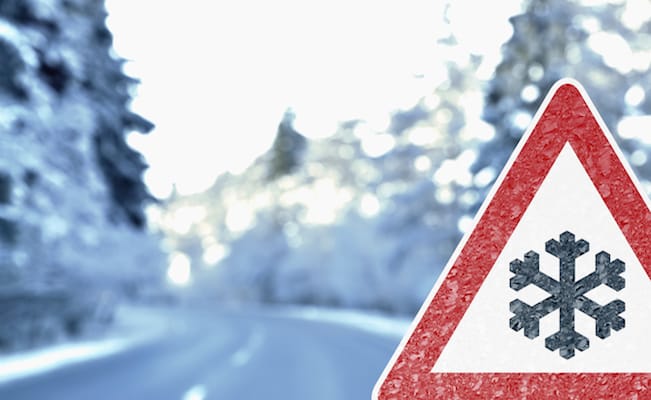 When Old Man Winter makes his annual trek to pizzerias across the country, he leaves plenty of cold climate hazards in his wake.
There is the obvious impact snow and ice has on delivery drivers and your team's safe travel to and from work. But neglecting winter safety in and around your restaurant could, well, leave you out in the cold.
Delivery Dilemmas
When winter weather hampers travel or dining plans, people often dial up a local pizzeria for delivery. That's good for business, but not always so good for your drivers since roads may be treacherous.
If a Nor'easter has your town pinned down, think safety first and suspend delivery service. Otherwise, remind callers that wait times will be extended to accommodate safe travel—maybe warm 'em up to the idea of delayed delivery by including a few free packets of hot cocoa mix with their order.
In fair or foul winter weather, your drivers' safety is of utmost importance. Provide these pointers to help keep them from harm while out in the elements.
On The Road
Drivers can combat deteriorating winter road conditions by taking special care to:
Drive at a speed that conditions allow
Increase following distances between vehicles
Slow down ahead of curves and downhill slopes to prevent skids
Keep headlights on to increase visibility
Avoid driving through an obvious trouble zone
Remove accumulated ice and snow from car windows, mirrors and lights
Prepare for emergencies by carrying jumper cables, a flashlight, flares, blankets, a shovel, sand or ice melt, and a fully charged cell phone
On Foot
Wintry walkways and crosswalks can make getting a delivery to the door risky business. Delivery people who walk mindfully can prevent close calls:
Before stepping off the curb, make sure all vehicles have come to a complete stop
Avoid crossing streets in areas where driver visibility is low
Be on the lookout for vehicles that are sliding or otherwise out of control
Use handrails on stairwells and plant feet firmly on each step
Appropriate gear can also be a great defense against winter worries. Drivers should wear:
Shoes or boots with non-slip rubber or grooved neoprene soles
A heavy coat for warmth and cushioning in the event of a fall
A bright hat, scarf or reflective gear for high visibility while walking
Sunglasses to cut daytime snow glare
Parking Lot Pitfalls
Slips and falls are the number one cause of restaurant accidents, with about 70% of them occurring on flat or level surfaces—like your parking lot.
Well Equipped
Even if you hire a contractor to clear lots and walks, plan ahead in case they can't make it during a snow emergency.
Establish a snow removal schedule with your staff and keep these winter must-haves on hand:
Snow shovels, preferably those with ergonomic bent handles
Ice melt or sand
Stiff bristle brooms
Snow blower
Well Done
Snow and ice dangers don't only lurk underfoot. Shoveling the white stuff causes roughly 12,000 fractures, lacerations, sprains, back strains, and cardiac-related episodes every year.
Use and share these proper shoveling tips:
Dress warmly but loosely enough to allow easy movement
Bend at the knees to reduce back strain
Slide the shovel blade under the snow, and straighten legs to lift
Pivot your feet and toss snow instead of twisting your torso
Take frequent 1 to 2 minute mini-breaks while shoveling
Spray the shovel blade with Teflon® coating or cooking spray to allow snow to slide off more easily
Restaurant Rescue
Water on walking surfaces invites slips and falls inside your pizzeria. Patrons and staff are particularly at risk when winter footwear leaves slushy, snowy messes behind.
Prevent accidents and injury with diligent clean up:
Soak Up
Place absorbent walk-off mats at all entry doors to soak up water from wet shoes and boots. Keep an adequate supply of extra mats on hand to replace saturated ones if wintry weather persists for an extended period of time.
Mop Up
A good mop will help you stay ahead of water build-up on front of house floors. After mopping, be sure to post "Wet Floor" signs inside and outside of doors to alert patrons and staff to the potential danger. Have the manager on duty frequently check all floors to verify they remain safe.
Pick Up
Mittens, scarves, hats, coats and other cold weather clothing have a tendency to stray from tables and chairs into aisles. Keep foot traffic flowing without incident by reminding staff to be on the lookout for—and pick up—inadvertent winter clutter.
Like your patrons and staff, your pizzeria is susceptible to winter hazards. Use this checklist to make a winter preparedness plan that keeps your operation at its best even when the weather is at its worst.
For more tips on making your restaurant a safe place, check out our 24 Restaurant Safety Tips for Pizza Makers by clicking the button below.