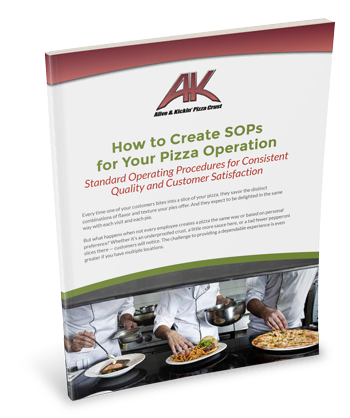 Improve Your Kitchen's Efficiency and Quality
When it comes to pizza preparation, consistency is of the utmost importance, and there's a lot that goes into delivering the experience your customers have come to expect. The behind-the-scenes processes and workflows of a commercial kitchen are what ensure your patrons are satisfied with each visit and each bite.
How to Create SOPs for Your Pizza Operation is an invaluable tool to help you set clear standards for your employees so they can get it right every time, and in the most efficient way possible. Use our guide to create effective standard operating procedures for:
Pizza preparation — to provide consistent quality every time
Server expectations — for food presentation and accurate orders
Food safety — to protect your reputation and patrons' health
Storage and inventory — to save time and reduce waste
And much more!
Plus, this eBook includes a sample SOP to use today and as a template for creating additional procedures for your own kitchen. Complete the form to download your free copy of How to Create SOPs for Your Pizza Operation.