Dough balls come in cases of different quantities and weights:
When using our dough balls, you buy only as much as you need
We can produce dough balls from 4 to 30 oz.
Custom Dough Balls
We can create a specific pizza dough recipe, in any size of dough ball you want. The advantages of doing this are many: minimizes labor; eliminates the need to buy commercial mixers; eliminates the handling of heavy flour bags; eliminates inconsistencies; gives you a product that's proprietary — no one else has the recipe. The best part? The case minimum is just 18!


High Gluten Dough Balls
Our most common (and popular!) dough ball; this one is great for hand-tossing a New York style, or sheeted for a crispy thin crust. It's our most versatile dough, cooks up crispy on the outside with a slightly chewy texture, and browns up nicely. Some other high gluten styles we commonly make include:
Wood Fired High Gluten Dough Balls (WDGH) withstand high temperatures and wood fire ovens

High Gluten Dough Balls with Sour (HGR) have the same characteristics as HG and with a light sourdough flavor

High Gluten Dough Balls with Whole Wheat (HGWT) meet the government nutritional guidelines for institutional use — great for schools and hospitals

Low Moisture High Gluten Dough Balls (LMGH) have lower moisture content that works great with sheeters
Check Out Our Articles About Dough Balls: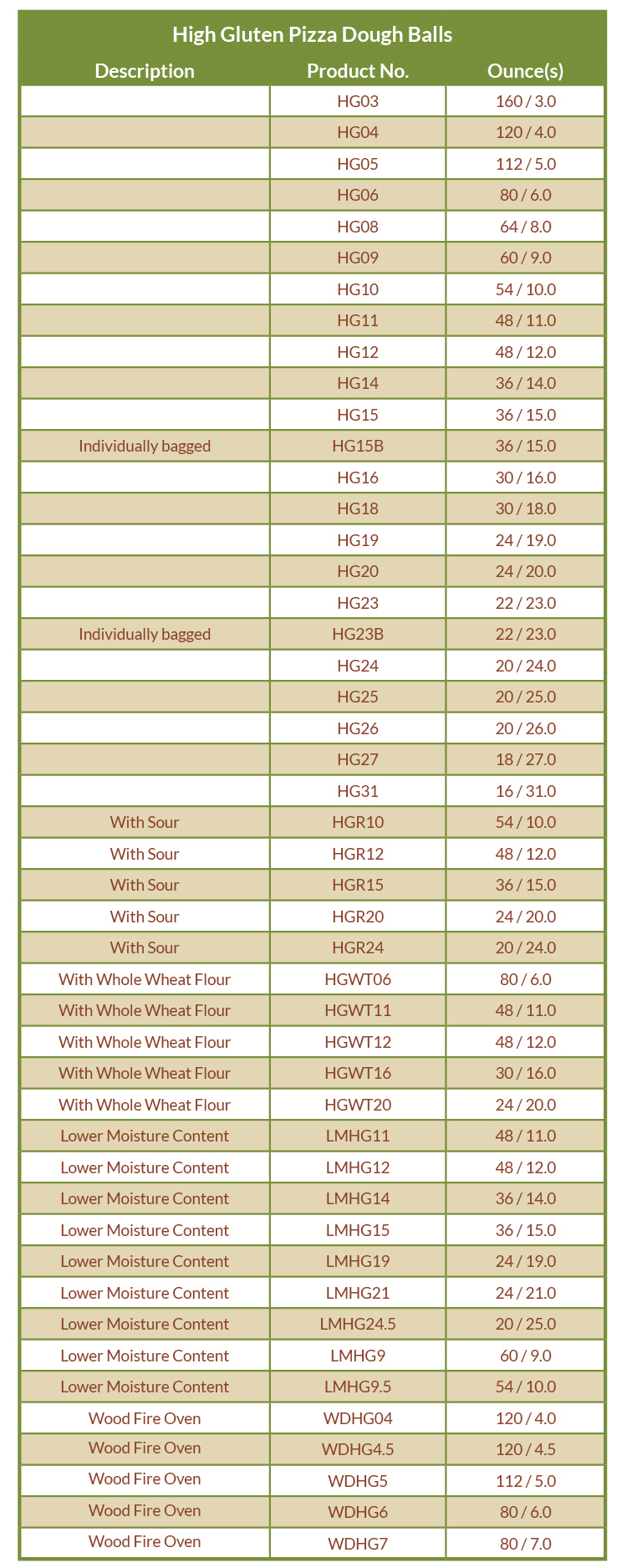 Hotel & Restaurant Flour Dough Balls
Hotel & Restaurant Flour Dough Balls (HR) offer great value and a more bread-like flavor with a softer, less chewy texture than our high gluten dough. They're also great for thicker pizzas and bread sticks
Hotel & Restaurant Flour Dough Balls with Extra Yeast (HRXY) are similar to HR dough balls, but with a bit more "pop" and quicker browning
Hotel & Restaurant Flour Dough Balls for Pan Pizza (HRPAN) are similar to HR, but designed for pan-style and deep-dish pizzas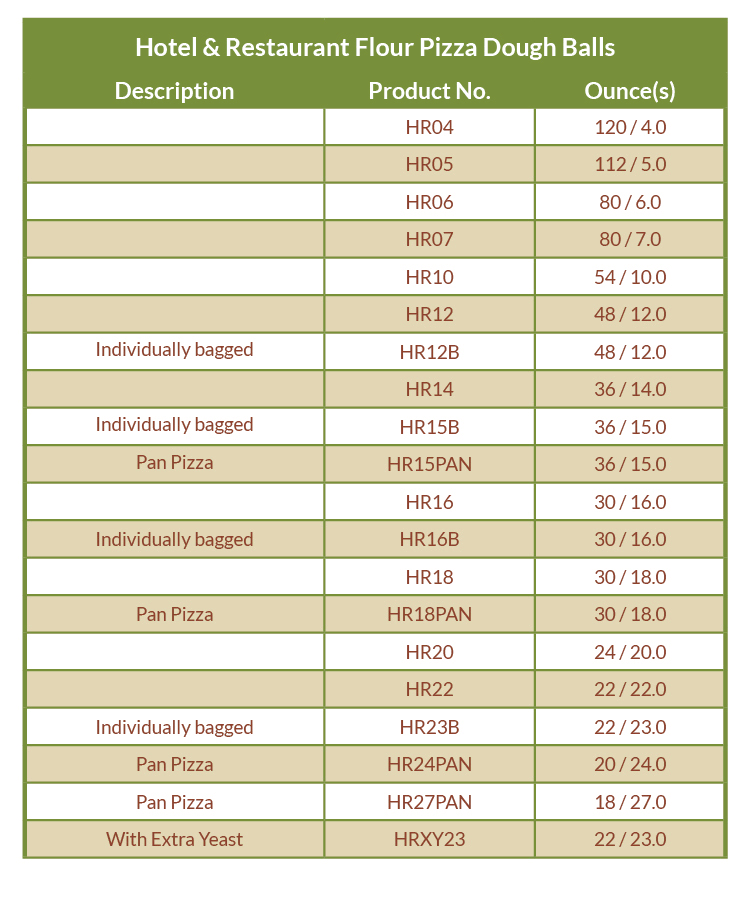 Specialty Dough Balls
Focaccia Dough balls (FOC) are versatile dough balls made with classic focaccia seasonings. Makes great table bread served with olive oil or balsamic vinegar. Works well for gourmet pizzas, or try it with garlic chicken and a white sauce.
Take 'N' Bake Dough Balls (TNB) are specially made for take-and-bake pizzerias. This product is made to bake well in home ovens. The dough has a great proofed shelf life and works well for pre-made pizzas. Dough cooks up crispy and chewy and bakes all the way through. Hand-tosses well.
Classic Neapolitan Dough Balls (CPT) are made from imported Italian flour (Caputo 00) and works great with high-heat oven applications of 600° F and up.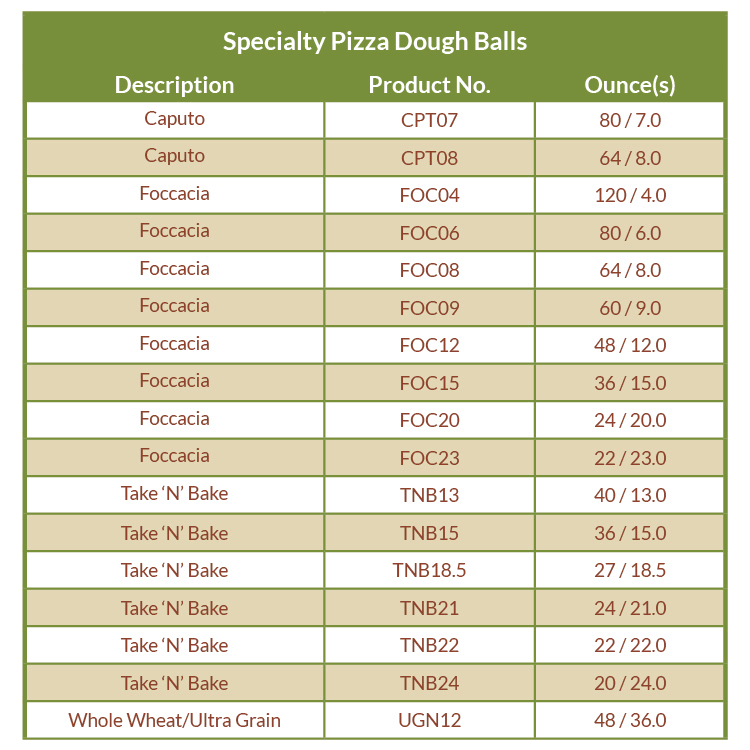 ---