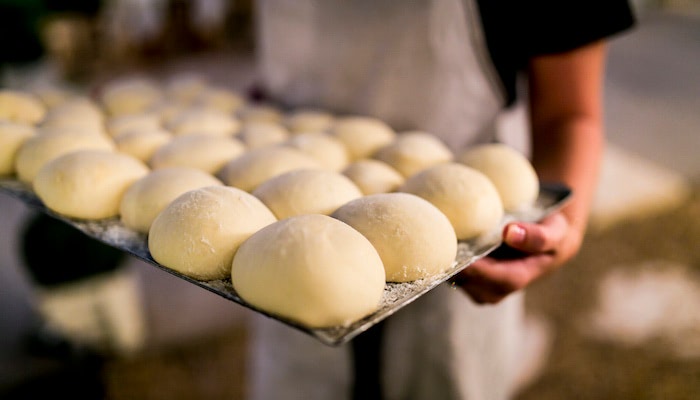 Most operators choose to make their own dough because the pizza crust is their signature element — it's often what customers remember most about the entire pie. But, mixing your own dough isn't always the best solution.
Chef Luke weighs in on in-house dough mixing and the benefits of transitioning to frozen dough balls and par-baked pizza crusts.
How do I know when it makes sense to stop making my own dough?
Individual store operators often begin by making their own dough, usually because it's cost-effective, practical, and a source of pride. However, as your business grows and maybe even expands to several locations, the benefits of in-house dough mixing become decided disadvantages in:
Consistency: Many times, one team member is the dedicated dough maker. If that person is somehow unavailable or if the labor shortage dictates a staff reshuffle, your pizza consistency and your restaurant's reputation are at risk. What to do? Relying on a backup dough maker may fill the gap and the dough may be exceptional — but, chances are, it won't be identical to the recipe your customers know and love. Consistency is key. Customers want the same pizza experience every time and at any location they visit, and you need a solution that will help you confidently meet their expectations.
RELATED: Spicy Pie Case Study
Labor: Making dough is very labor-intensive, and the process becomes less manageable as business scales up. Someone has to come in early in the morning, or even the day or night before the dough is needed, to mix, round, and store fresh dough balls. Like consistency, assuming one person will always perform the rigorous dough-making duties and meet daily deadlines is a huge gamble.
What are the advantages of using par-baked crusts or dough balls?
Establishing a partnership with a pizza dough manufacturer eliminates concerns over consistency and labor issues. The production process ensures frozen dough balls and pre-made par-baked crusts are the same every time. And, whether you're using a dough manufacturer's stock house recipes or creating a signature crust, pre-made dough matches the exact quality of your in-house dough.
There's also prep to consider. Unlike the laborious process undertaken in-house, frozen dough balls are pre-portioned, easy to proof, and ready to use within hours. Or, you can opt to use par-baked crusts and get rid of dough preparation altogether — just top and bake.
What's the impact on cost and kitchen operations?
Cost and space are key considerations in the make v. purchase pizza dough debate:
Cost: Compared side by side, the cost of making your own dough is roughly the same as having dough balls made for you.
Space: While you lose a little freezer space by purchasing and storing frozen dough, you gain it in other kitchen areas. There is no longer a need to allot floor space for a mixer and other large equipment, or earmark storage areas for bulk quantities of ingredients like flour, oil, salt, and sugar.
RELATED: Goodfella's Case Study
How do I choose a crust or dough ball manufacturer?
Perhaps you've reached a tipping point, and purchasing dough balls or par-baked crusts is the next logical step. There are plenty of dough manufacturers to choose from, but not every supplier is committed to being a strategic partner.
Take your time. Find the manufacturer that will listen to you, work with you, and even make your exact recipe — delivering the same ingredients, weight, and quality as the dough you make yourself. Don't settle for anything less than a supplier that's as passionate about pizza as you are.
Your pizza crust is your signature and your promise to customers that you'll consistently provide the best experience without fail. Sometimes that means continuing to mix your own dough. Other times it's understanding the need to turn dough duties over to a trusted manufacturer like Alive & Kickin'.
Check out what we have to offer in the newly updated and expanded Alive & Kickin' Product Overview. Click the button below to download your copy of this valuable reference guide.