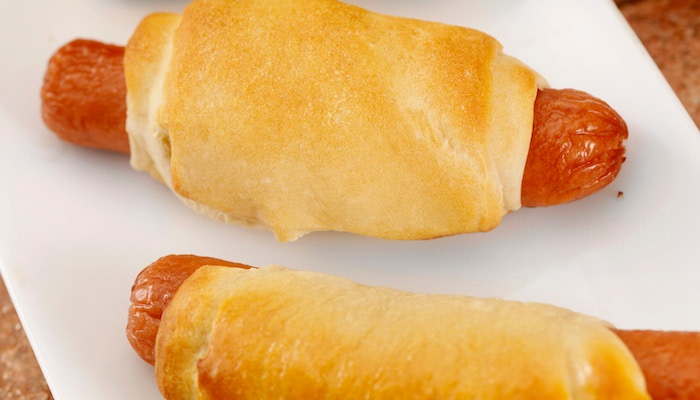 Many pizzeria owners have experience with pre-made crusts and dough balls – but not all operators have gone beyond the obvious to consider all the ways they could be using these versatile products to expand their menus (and generate bigger average tickets). Here are seven simple ideas you can use to shake your menu up a bit:
Jumbo Pigs in a Blanket
Forget cocktail wieners – give patrons a super-size version of this tasty favorite by wrapping a regular hot dog in a triangle of dough. Roll out dough, slice into 6 pieces and roll a hot dog into each, starting at the widest end. Kids love 'em, especially when served with dipping sauces like Ranch dressing and mild barbeque sauce.
Bread Cones
Wrap strips of dough around waffle cones and bake in the oven; remove the waffle cone and you've got a perfectly shaped "cornucopia" you can stuff with just about anything: chicken salad, taco meat, pulled pork and more. Also consider offering Pizza Cones – hand-held versions of your most popular pies – by filling the cones with a variety of meats, sauces and cheeses.
Tortillas
When you roll pizza dough out into thin circles then lightly fry, you've essentially created a flour tortilla! Fill with traditional Mexican ingredients or create your own signature menu item.
Thinking about using dough balls to roll out these tasty menu options? Learn how in our guide below:
Baguettes
Making your own French-inspired loaves is simple and gives patrons a fresh before-pizza treat. Just roll your dough out into the basic shape of a baguette, let it rise, brush with butter and bake. Voila!
Bagels
Yup, you read that correctly: bagels! Create your own by rolling ropes of dough into the shape of bagels, then boiling. After a short period underwater, season and bake – it's that simple to make a sandwich option or the foundation of a pizza bagel.
Monkey Bread
Everyone loves traditional sweet monkey bread – balls of dough rolled in cinnamon, sugar and butter, baked together to form an easy-to-portion baked treat. Using the same method, you can make a savory version: wrap chunks of mozzarella into small pieces of dough, place into a Bundt pan, sprinkle with seasonings and bake. Remove and place a ramekin of Marinara sauce in the middle for dipping.
Scallion Pancakes
Add a little Asian flavor to your menu with simple, savory Chinese Scallion Pancakes. Simply cut a dough ball into half, roll out each half into 3 or 4 small circles, top with the scallion mixture (usually scallions, salt, rice vinegar, soy sauce and sesame oil), then roll up allowing the dough to rest with the ingredients. Coil each "rope" of rolled-up dough, then roll each again to make pancakes. Then fry and enjoy!
Pizza dough is one of the most versatile, hardworking "tools" in your kitchen. Select one or two of these tasty suggestions and test them on your menu, or use them interchangeably as specials of the week. Patrons will appreciate the variety – and who knows: you might have created a signature dish they'll come back for!
Looking for more great ideas? Here's a resource every pizzeria can use: our Recipes eBook. Get your free copy by clicking on the link below!