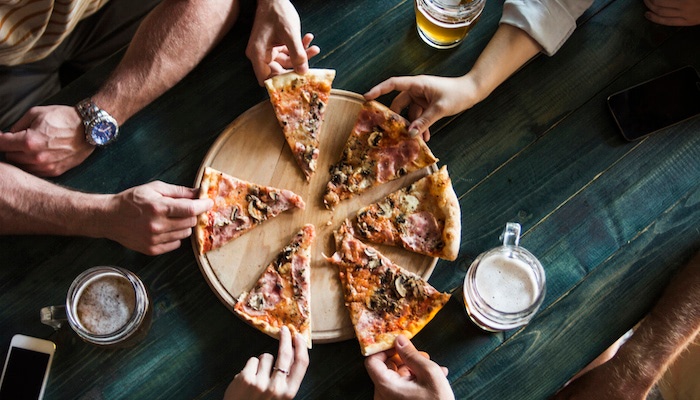 Out with the old, in with the new! 2017 is shaping up to be a year of continued evolution for the restaurant industry, which will naturally shape pizzeria trends in terms of tastes, experience and operations.
Tastes
Each year brings a new batch of must-have flavors to try out your menu, and 2017 is no different:
Barbecue: Already an established favorite, barbecue is getting an upgrade as adventurous chefs recreate — or completely reimagine — recipes from all regions of the country (not just the 'cue-loving South) and slather sauce on non-mainstream meats like lamb belly. A perennial favorite in pizzerias is barbecue chicken pizza, so consider putting a similar option on your menu either permanently or as a limited-time feature.
Veggies and nuts: Vegetarians aren't the only people seeking out meat and dairy alternatives. Lentils like chickpeas and black-eyed peas are leading the way in meatless proteins, and nuts are being whipped into butters or served up in almond, soy and coconut milks. Veggies and nuts aren't just great replacements — they're awesome pizza ingredients. Check out these pie recipes for inspiration.
Fresh and local: Menu items with locally sourced ingredients and healthful benefits (or the perception thereof) appeal to the mind as much as the palate. Using products from local suppliers with great reputations can give your menu a jolt. Tap into the health-conscious lifestyle by promoting nutritious patron picks with attention-getting menu icons, callouts, colors and special sections.
Experience
Food quality and variety is always essential to keep patrons satisfied, but the restaurant and hospitality experts at Andrew Freeman & Co. are pointing to the overall experience as paramount:
"Vibe" dining: Patrons want more than good food, they want a good mood — and they expect the restaurant to provide it. Everything from the paint on the wall to customer service to restroom cleanliness all factor into how patrons perceive their overall experience. Take a look at the big picture. Been too long since you've freshened the dining space? Consider an upgrade. Even simple changes like new carpeting or rearranging the tabletops can breathe new life into the space. Servers need some reinvigoration? Use this valuable waitstaff training guide.
Teen scene: Once a prime audience for pizzerias and other restaurant hangouts, teens are opting for dine-in eating less frequently. The trend won't be undone with coupons for this audience; you need to meet teens where they are. Large pizza chains are implementing innovative online and app-based campaigns to reach out to teens and drive traffic. Pay attention to the "big boys'" messaging and see how you might adapt — not plagiarize — the idea to something that works for your size and budget.
Operations
Growth is any operator's goal, but there's no one path to get there. Incorporate some of these up-and-coming operational trends into decisions that will take your pizzeria to the next level:
Staffing: Labor shortages in the restaurant industry are a constant pressure, and it makes finding and retaining staff that fit your operation essential. Use the pointers in this eBook to stay ahead of the competition.
Technology: We've already mentioned how technology can help build traffic, but have you considered its impact on labor costs? Using apps, online ordering and similar electronic touch points drives down staff time commitments.
Delivery: Delivery is becoming less of a luxury and more of an expectation as patrons want the convenience of restaurant-prepared food in the comfort of their own homes. Don't have the capacity to accommodate delivery? Consider partnering with a third party delivery service. Also check out these 12 tips.
The evolution of pizzerias and the industry is evident in the 2017 restaurant trends, and one of the most far-reaching is technology. Boost your online presence using the innovative advice in Social Media 101: The Beginner's Guide for Pizza Restaurants. Click the button to download your free copy.