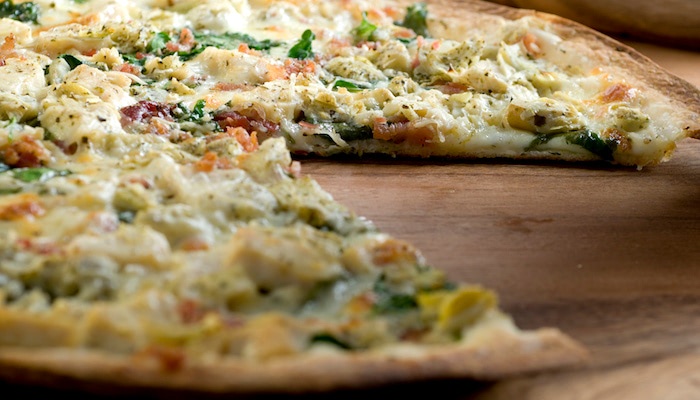 According to Technomic's 2016 Pizza Consumer Trend Report, 39% of patrons say that new and innovative pizza toppings are key to a good pizza and a great experience – a 6% jump from only two years ago.
Some of today's hottest trends – like nuts, upscale vegetables, and ethnic fusion – make for some tasty pies and interesting menu additions for your restaurant. Give these two on-trend pizza recipes a try.
Nutty Ideas
Grape, Chicken and Walnut Pesto Pizza
| | |
| --- | --- |
| 16 oz | Dough Shop® by A&K dough ball |
| 1/4C | prepared pesto |
| 1-1/2C | shredded mozzarella cheese |
| 1/2C | cooked mozzarella chicken |
| 15 | red seedless grapes, haved lengthwise |
| 2T | walnut pieces |
| | Ground black pepper to taste (optional) |
DIRECTIONS:
Preheat oven to 350°F. Spread pizza dough evenly onto a pizza pan. Bake pizza dough in preheated oven until slightly cooked, about 8 minutes. Spread pesto onto pizza crust in a thin layer, leaving edges exposed. Sprinkle mozzarella cheese over pesto layer; add chicken. Arrange grapes, cut-side up, around the crust. Sprinkle walnuts over pizza and season with black pepper, if desired. Bake in preheated oven until cheese is melted and bottom of crust is lightly browned, about 10 minutes.
Serve with…
Since this pie features grapes but isn't overrun with them, complement the flavor with an easy, sweet and healthy grape and feta salad.
Nouveau Veggies
Vegetables prepared with gourmet flair are popular with nutritionists and foodies alike. Even longtime pizza mainstays – like onions – are tops in toppings when caramelized and paired with leafy greens.
Caramelized Onion and Arugula Pizza
| | |
| --- | --- |
| 2 large | red onions, thinly sliced |
| 1T | butter |
| 1/2 C | extra virgin olive oil aged balsamic vinaigrette dressing |
| 1 | flatbread |
| 2C | shredded Swiss cheese |
| 1C | baby arugula |
| 1/4 C | pine nuts, toasted |
DIRECTIONS:
Cook onions in butter in large skillet on medium-high heat for 15-20 minutes or until onions are tender, stirring occasionally. Add dressing; cook on medium heat for 10 minutes or until onions are caramelized, stirring occasionally. Stir in rosemary. Cool completely.
Heat oven to 450°F. Press pizza dough onto bottom of 17" x 11" x 1/2" x 3/4" pan sprayed with cooking spray. Let stand 10 minutes. Top with onions. Bake on bottom oven rack for 15 minutes, or until crust is golden brown. Top with cheese and bake 2-3 minutes, until cheese is melted. Top with arugula and pine nuts.
Serve with…
An onion-loaded pie is aromatic and delicious, but it can leave patrons needing a palate cleanser. Serve these airy peppermint meringues as a light dessert patrons will appreciate.
Triple Play
Don't wait for patrons to find your new menu items. Host a "Try the Trio" night where you offer a multi-slice and dessert combo of each new menu offering at a special price. Talk it up on social media and, to really drive traffic, promise patrons a discounted future purchase if they share their thoughts in a brief at-table survey. That's a win-win – they get their favorite new pie at a discounted price, and you benefit from patron feedback that profitably guides your menu choices.
You may even want to take a cue from large pizza chains and other major food brands, and open it to a patron vote. The pie with the most votes wins a permanent menu spot, while the others rotate (or maybe don't make the cut at all).
Learn everything you need to know about building and leveraging your restaurant's online presence in Social Media 101: The Beginner's Guide for Pizza Restaurants. Download your free copy now by clicking the button below.