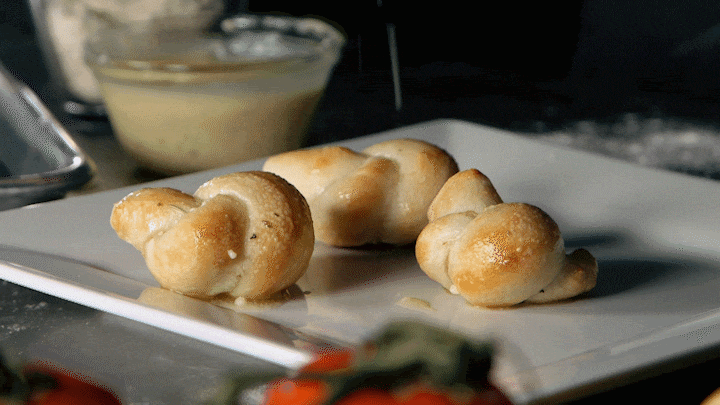 Restaurants looking for ways to freshen up their appetizer menu might want to consider the resurgence of nostalgic flavor profiles, while also adding the innovative twists found in this video! Get the latest inspiration from our very own Chef Luke:
Stuffed cheese bread baked to a golden brown not only tastes great, but provides impressive visual appeal, making other patrons in your dining area take notice. Garlic knots sprinkled with a parmesan herb blend feature a light texture with an unmistakable fresh-from-the-oven smell.
For dessert, add a new twist to an old classic like cinnamon rolls by baking up soft, chewy cinnamon knots covered with cinnamon sugar and a sweet glaze drizzle.
Convenience and consistency when preparing appetizers is a major factor in keeping these types of items perennial favorites on your menu. Alive and Kickin's All-Purpose Dough Balls have a softer, bread-like flavor. In addition to breadsticks and the applications mentioned above, they are ideal for thicker pizzas and many other recipes.
Considering dough balls for your operation? Get Started With Pre-made Dough Balls: A 3-Step Guide shows you just how easy it easily to partner with a dough manufacturer and begin realizing the benefits of pre-made dough balls!