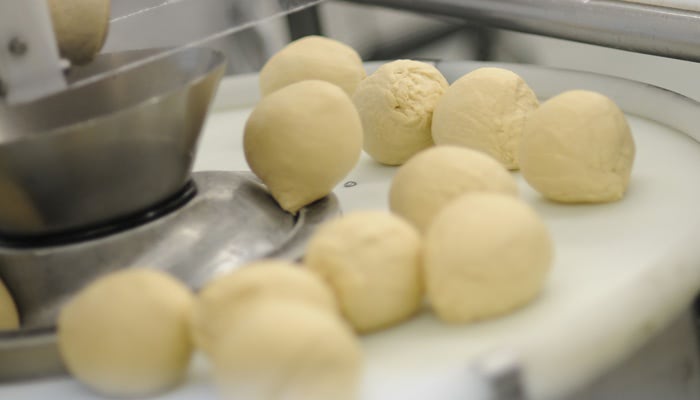 With $799 billion in U.S. sales last year alone, the restaurant industry is big business. Competition is fierce, and operators must capitalize on every advantage to remain profitable.
For those running pizzerias or other establishments that sell pizza like delis, c-stores and entertainment venues, that means overcoming several nearly universal obstacles to success with one solution: ordering pre-made dough balls through your distributor instead of scratch-making your own dough.
Sound too good to be true? It's not! By taking scratch-making dough off of operators' to-do lists, pre-made dough balls provide five significant benefits:
1. Offset the impact of industry labor shortages
In light of the considerable gap between job vacancies and qualified workers that restaurant and foodservice management is currently facing, doing more with fewer employees is becoming commonplace for operators. Since there's no need to dedicate a staff member's time to dough making with pre-made dough balls, you can reallocate tasks to ensure efficient team utilization — especially when you're shorthanded.
Learn how pre-made dough balls helped Goodfellas Pizza reduce required labor time, improve product quality and much more in the case study below!
With scratch-made dough, there's one sure-thing: no two makers will identically weigh and measure ingredients, proof dough or roll out crusts. Not to mention the environmental factors like varying heat or humidity in your kitchens depending on the time of day or location. That can be a real problem when customers start to notice inconsistencies in pie flavor, quality and texture across shifts, days of the week or between your locations.
Since they're pre-portioned, pre-made dough balls deliver uniform results every time. Plus, Alive & Kickin' dough balls can be customized to your signature recipe for consistency without compromise!
3. Help manage overhead and maximize kitchen capacity
Ordering pre-made dough balls through your distributor is a surefire way to manage physical space. Housing large mixing equipment is no longer necessary, and neither is storing bulk quantities of certain ingredients like flour, salt and sugar — which amounts to freeing up square footage to increase output capacity, or perhaps realizing immediate savings by reducing the overall amount of square footage you're paying for every month. Factor in not having to maintain unnecessary equipment or manage ingredients re-ordering, and you're culling out a number of "little things" that could otherwise be a big hit on your bottom line. Pre-made dough balls are a simple solution that alleviates back-of-the-house headaches, contains costs, and streamline kitchen efficiency.
4. Minimize recipe "guesswork" and related food cost fluctuation
In-house dough makers often quickly become familiar with your recipe, which can lead to shortcuts like "eyeballing" ingredients instead of weighing and measuring them. In addition to inconsistent pizza quality, these supposed timesavers wreak havoc on food costs. Pre-made dough balls are prepped and ready to go, so you know your exact crust costs and can plan your budget — and profitability — accordingly.
5. Reduce food waste
Any number of things can cause a dough-making mishap. Humidity that's too high or low in the kitchen. The wrong type or amount of ingredient. Inattentive staff at the mixing table. Overestimating the amount of dough needed and having the leftovers spoil. The result is the same: a good deal of food and money in the trash can. Not so with pre-made dough balls! Just proof, roll out or toss, top and bake.
In addition to convenience, pre-made dough balls provide you with variety and versatility to really maximize your menu profitability. Read about how they helped one small pizza chain in all areas of their business in our Spicy Pie Custom Dough Ball Case Study. Click the button below to access your copy now.