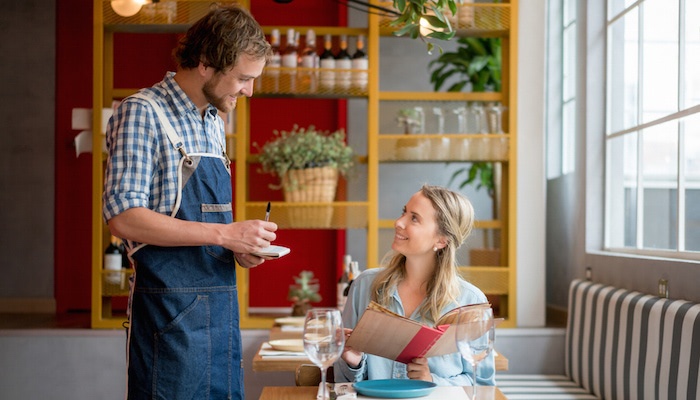 When your pizzeria is operating smoothly, the synergy between the back of the house and the front of the house translates to happy staff, satisfied patrons and more sales. Encourage efficiency and consistency with these best practices for the front of the house (and check out out back-of-house tips here):
Play to strengths
In the restaurant business, many times hiring is a numbers game and it takes a while to build your team. Once you've found the right people, it's important to remain involved in their professional growth because:
Unfortunately not every hire is worthy of your trust, which can present a separate set of challenges.
It's not realistic to expect that every employee has, can, or wants to develop the skill sets necessary to be successful in your restaurant's culture.
It's your responsibility to assess team member capabilities and award positions and perks based on strengths, not solely on seniority.
Train to gain
In conjunction with identifying your team's strengths is providing them with the tools they need to take their natural abilities to the next level:
Establish Standard Operating Procedures (SOPs)

:

Take nothing for granted when creating training aids. Use pictures to demonstrate the basics: standard tabletop setting, step-by-step equipment use procedures, or how food should appear when served (pie slices, appetizer count, etc.) Consistent training instills server confidence and improves quality in and across your location(s).
Make your menus memorable

:

Require servers to know your menu inside and out so they can make value-added recommendations. Randomly quiz servers to test their skills.
Add it up

:

During training, emphasize that you (or your general manager) closely inventory the cash drawer and popular ingredients/toppings by using the POS system. In general, people respect what you inspect, and it goes a long way in loss prevention.
Bring things into focus
Employees often view surveillance cameras as a way for "the boss to spy on them." While there is an aspect of trust involved in the decision to use surveillance cameras, it's not the only reason.
Overcome this widely held, negative mindset by explaining to your staff how you position and use cameras as tools for:
Security

:

Cameras are an ideal tool for dissuading criminal activity and keeping employees safe during all shifts.
Training

:

Seeing current practices in action often reveals opportunities for improvement in key areas like guest greeting/interactions, service times and proper food preparation.
Patron safety/liability

:

While most of the time your entrances, exits, main traffic areas and parking lots remain incident-free, video documentation comes in handy should an injury, accident or other situation occur.
Lead by example
As the owner/operator, you're often the face of the operation as well as the manager, bookkeeper, cheerleader, supply clerk…and the list goes on. It all adds up to long hours.
Having your team see you work hard inspires them to do the same, but don't be afraid to also teach them it's okay to ask for help. If you're taking on too much, hire a general manager. You can leave your pizzeria in capable, management-level hands and stay in close contact without having to be physically in the shop.
Keep your pizzeria moving forward with these tips for the front of the house and these tips for the back of the house. Take a deeper look into how to build a team of enthusiastic brand advocates by using the pointers in Tips for Hiring the Right Staff for Your Restaurant. Click the button below to download your free copy.