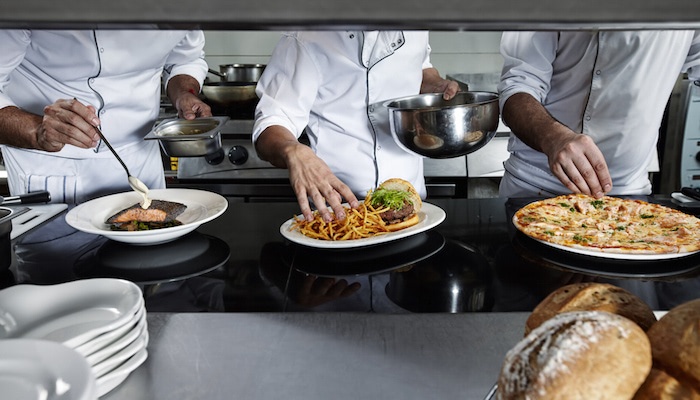 Your food may be your focus, but the success of your pizzeria is largely dependent on attention to detail. Efficiency and consistency in the back of house translates to the front, and vice versa, but not every owner or operator knows which best practices to implement to make it happen.
In this two-part blog series, we'll identify and explain top tips you can use to ensure your operation runs smoothly. Today we'll give some advice about the back of house. Part 2 will provide front of house tips, so check back for that article next week!
Food rules
Prudent ingredient handling is essential for cost containment and consistent, quick turns:
Weigh ingredients:

Prep time is at a premium, so portioning out exact amounts of each pie ingredient on the fly isn't practical. Instead, focus on the most common — and usually more expensive — ingredients like cheese, sauce and some meats. Develop a formula that correlates to pie size (i.e., a small pie requires X ounces of cheese, a 4-ounce ladle of sauce and X slices of pepperoni). That way, your kitchen staff has a road map that helps them hit the mark without delaying service.
Use per-serving piece counts:

Portion control for non-pie food items, like appetizers, can typically be achieved with simple counting (i.e., 1 serving = 6 mozzarella sticks). A word of caution: counts work great for uniformly shaped items, but appetizers that can vary in size, like chicken wings, should be weighed for consistency.
Unsung heroes
Since your back of the house team is rarely seen, patrons rarely give them a second thought. Unfortunately, many owners and operators also unintentionally fall into that trap.
A little recognition goes a long way. Make a pointed effort to show your back of house team how much you appreciate them. You'll know best what motivates your staff members, but consider including some special perks like:
A praise board

to draw attention to the "above and beyond" things your back-of-housers do, either as individuals or as a team that impact your operation
An "employee of the month" premium parking spot just for a back of the house member (use a separate space for the front of the house team). Couple it with a $25 gas card
Drawings for gift cards or swag
Half-price menu items on break or after their scheduled shift
Keep it clean
The food industry — like any other — is built on reputations, and the perception of all the people you associate with (patrons, suppliers, salespeople, DSRs) can make or break you.
Inside:

Just because fewer eyes are on the back of the house than up front, doesn't give you permission to slide on organization or cleanliness:

Inspect incoming food shipments to ensure they meet your standards and safety expectations

Establish a regular cleaning routine and insist upon proper handwashing and glove etiquette

Practice safe cooking practices, from ingredient storage and refrigeration through prep and serving temperatures

Keep cleaning supplies separated from food as harsh chemicals could be harmful if consumed
Outside:

The exterior of your operation sends a message to patrons, colleagues and vendors. Along with general building and parking lot cleanliness, check for these eyesores:

Is your garbage dumpster tightly shut, or crammed to overflowing?

Are your recyclable items neatly separated and packaged, or jumbled?

Are larger items like broken tables or chairs properly dismantled and ready for disposal, or scattered by your garbage receptacles?
Keeping things neat and orderly naturally impacts appearance and perceptions, and it helps keep your operation running at peak efficiency.
How your pizzeria operates is largely dependent on attention to detail. Set your back of the house team up for success with these tips, and keep your expenses and ingredient ordering on track with the advice you'll find in our Pizza Ingredients & Costs Calculator. Click the button below to download your free copy.