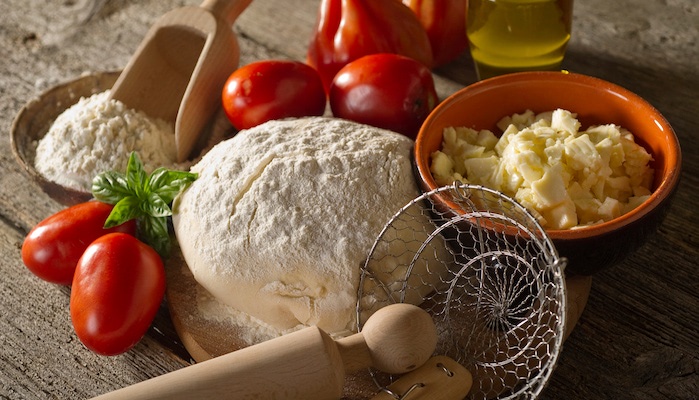 Flour, water, yeast, salt, sugar, and oil. The ingredients list of traditional pizza dough is mainstream, maybe even a little boring. Yet, customers almost universally agree that the crust is the most important part of any pizza. Imagine their surprise and delight if you introduced a custom crust that ramps up the entire pizza experience with flavors inspired by the hottest food trends or seasonal influences.
Benefits of Having a Custom Crust

Attract and Retain More Customers
While we wouldn't advise abandoning a classic pizza dough recipe that's beloved by all your customers, adding a custom crust to your lineup is the perfect way to get the attention of "foodies" — especially those within the Millennial generation, who are always on the lookout for new and unique food items. And, as young adults and college students, Millennials also LOVE pizza, so using custom crusts is a natural and likely profitable way to attract and retain loyal long-term, repeat customers.
Distinguish Yourself from Competitors
A custom crust can help your operation shed "ho-hum" offerings in favor of pies that can truly provide a competitive advantage. The signature flavor and texture of a custom crust makes it memorable and exclusive — characteristics that keep customers coming back because they can't get "that pizza" anywhere else. Likewise, with custom crusts you can choose to address food allergies or other issues that might preclude some people from enjoying your fare. Your competition may not be offering these types of delicious solutions, and that means more and happier customers coming through your door.
How to Get Started
When it comes to creating a custom crust, the process can be boiled down to three key steps:
Step 1 – Develop a Recipe
You can't get started without a recipe, right? As you brainstorm what you want your crust to be like, think about what key characteristics you want your crust to have, such as:
Are you looking for something "out there" and unique, or are you just trying to replicate your grandma's recipe?

What flavor variations do you want (e.g., garlic, butter, parmesan herb, etc.)?

What is your custom crust's signature type thick, thin, cracker, deep-dish, New York, hand-tossed, or other variety?

What about size and shape? Traditional round, or something different like an oval or square

?
If you're unsure of how to proceed or don't already have a "secret family recipe" to use, you can work with a custom crust manufacturer like Alive & Kickin' Pizza Crust to formulate a recipe based on the finished product you desire. Tapping a manufacturer's expertise as to what works and doesn't work, aligning crust types with pizza performance (e.g., par-baked crusts for thick crust applications), quality, testing and so forth can really drive your success.
A manufacturer can also help you scale up an existing custom recipe to meet growing demand, take the responsibility of scratch-making dough off of your staff and ensure consistency — all of which can save time and money. In other words, you can still have a custom crust without all the work of a scratch operation.
Step 2 – Test Your Recipe
Once you've got a recipe formulated, the next step is to test its performance:
How does it hold up against your expectations?

Is the pizza structurally sound when topped?

Does the pizza have your desired cell structure, taste, and texture?

Did it bake fast enough to be efficient in your restaurant?
These are the types of questions you'll need to answer with certainty before okaying a custom crust for final production.
Step 3 – Produce it to Scale
After passing all the rounds of testing, the next step of creating your crust is producing it to a scale that meets your restaurant's demand. You'll want to do some forecasting first to establish order and fulfillment schedules that fit into your supply chain protocols, or you may choose to work with a crust manufacturer to help produce your crust in the most time and cost-efficient way possible, while also ensuring a safe, consistent product.
At Alive & Kickin' Pizza Crust, we offer a wide variety of custom recipes for pizza makers to choose from, and can help your restaurant stand out in the crowd with unique and delicious crust offerings.
Read the Spicy Pie Custom Dough Ball Case Study to learn how we helped a small pizza chain in Fargo, ND, overcome their dough dilemmas with a custom dough ball formulation based on the pizzeria's original recipe. Click the button below to access your copy now.