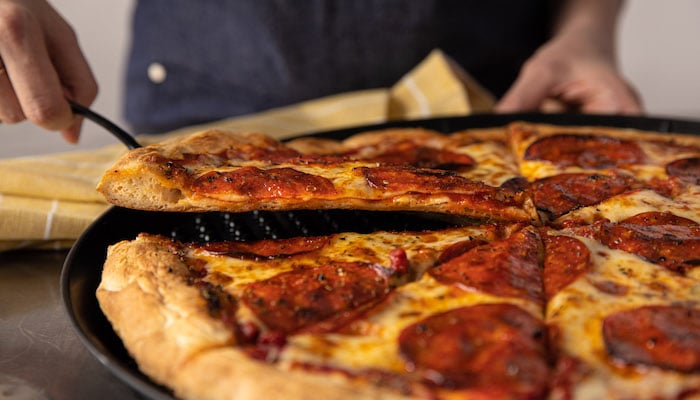 Flour, water, yeast, salt, sugar, and oil. The ingredients list of traditional pizza dough is mainstream, maybe even a little boring. Yet, customers almost universally agree that the crust is the most important part of any pizza.
Imagine their surprise and delight if you introduced a signature crust that ramps up the entire pizza experience with flavors — your c-store exclusive, perhaps inspired by the hottest food trends or seasonal influences.
Your customers will love you, and you'll love ringing up more signature pizza crust-inspired sales!
Benefits of Having a Signature Crust

Attract and Retain More Customers
While we wouldn't advise abandoning a classic pizza crust that's beloved by all your customers, offering a signature crust is the perfect way to get the attention of "foodies" — especially those in the Millennial generation, who are always on the lookout for new and unique food items. Using signature crusts is a natural and likely profitable way to build a base of loyal, long-term customers.
Distinguish Yourself from Competitors
A signature pizza crust can help shed misperceptions about "ho-hum" c-store pizza in favor of pies that can truly provide a competitive advantage. The unique flavor and texture of a signature crust are the very things that keep customers coming back. They simply can't get "that pizza" anywhere else — including at your competitors' c-stores.
Learn how C-Stores can boost profits with pizza.
You can also choose to address food allergies or other issues that might otherwise preclude some people from enjoying your pizza. Your competition may not be offering these types of delicious solutions, and that means more and happier customers coming through your door.
Create and Manage the Recipe
With signature pizza crusts, you call the shots when it comes to the characteristics. Whether you want to push the limits or keep it more traditional, it's imperative that you dial into the details of your crust:
What flavor variations do you want (e.g., garlic, butter, parmesan herb, etc.)?

What is your signature crust type — thick, thin, deep dish, New York, hand-tossed, or some other variety?

What about size and shape? Round is a classic, but maybe an oval or square pie would generate some buzz?
It's your decision and your signature pizza crust, but you don't have to go it alone. Collaborating with a proven manufacturer like Alive & Kickin' Pizza Crust to formulate a recipe is a must-do to get the finished product you desire.
Tapping into a manufacturer's expertise as to what works (or doesn't), matching crust types to pizza performance (e.g., par-baked crusts for thick crust pies), quality, testing, etc., can really drive your success.
Plus, in partnering with a manufacturer, you'll have the opportunity to "preview" your signature crust recipe to make sure that it:
Meets (or exceeds) your general expectations in terms of shape, size, color, etc.

Delivers the anticipated cell structure, taste, and texture

Remains structurally sound when topped — a key characteristic for c-stores holding grab-and-go pizzas under heat lamps or take and bakes in refrigerators
If the recipe ticks all the boxes, you're well on your way to offering a signature crust that truly sets your c-store apart and boosts business. A manufacturer like Alive & Kickin' can easily produce your recipe to scale to consistently meet demand!
Need more reasons to capitalize on par-baked or signature crusts at your c-store? Read our guide, Par-Baked Pizza Crusts: 4 Key Benefits for C-Stores. Click the button below to access your copy now.