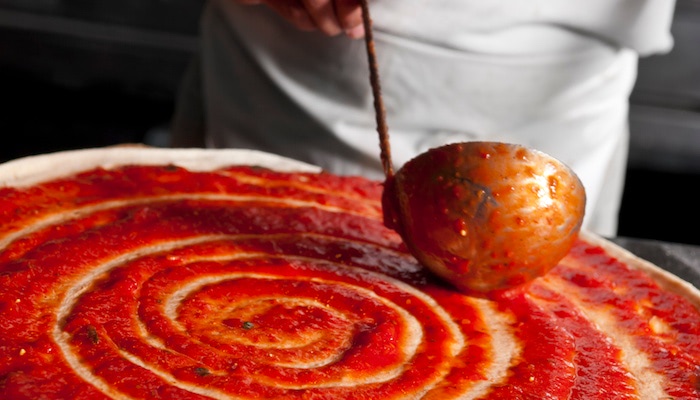 Your menu selections are the lifeblood of your pizza operation. Chances are, you diligently consult with your distributor to choose crust types and pizza dough products that work best with your recipes and help maximize your kitchen's efficiency.
It's a smart business practice, and one you can apply when considering sauces, too. While there is probably no single best commercial pizza sauce, there may be a best ready-made or fully prepared pizza sauce for the unique demands of your kitchen and your operation.
Which method for achieving the perfect sauce is also the most time- and cost-efficient for your operation? Let's compare fresh and fully prepared sauces.
Scratch-Made Pizza Sauces
Pizza makers take pride in their homemade pizza sauces, often laboring over generations-old family recipes, adjusting the balance of garlic, basil, and oregano to perfection and creating a taste unique to their pizzeria.
Part of the distinctive character of many scratch-made sauces is in the cooking — or the not cooking, as in the case of "fresh" pizza sauces.
Which type is best?
It's a popular debate, with enthusiasts and detractors on both sides.
All told, it comes down to personal preference.
The highest quality cooked sauces are often simmered for hours to produce deep, robust flavors, and the signature brownish-orange color patrons recognize. The long, slow process of cooking has the side benefit of permeating your operation with the tempting aroma of ripe tomatoes and herbs that whets appetites and promotes your pizza offerings without saying a word.
Advocates of fresh sauce, however, contend that cooked sauce can taste scorched.
Uncooked, or fresh, sauce is synonymous with bright, vine-ripened tomato flavor. Makers can choose between garden-picked tomatoes fresh from the field, or peak-season "fresh pack" tomato products. These "fresh pack" products are canned at peak ripeness, using low-heat methods to achieve a bright red, farm-fresh tasting tomato sauce that requires no cooking prior to use.
Canned products for fresh sauce? Yes!
The secret to fresh flavor is using "fresh pack" products and all-natural ingredients. Reconstituted and remanufactured products, made from tomato paste diluted down to sauce long after tomato season ends, just can't deliver the same lively, fresh-tasting results as fresh-pack products can.
Fresh sauce fans describe it as flavorful and authentic; on the other hand, fans of cooked sauce tend to think fresh sauce is too watery and often too bland for pies.
Fully Prepared, Ready-Made Pizza Sauce
Whether you decide on cooked or uncooked sauce, scratch-made pizza sauce takes time and labor to create — and that can present challenges for busy kitchens and those experiencing the labor crunch.
Some pizza operations opt for using pre-made tomato bases and adding their own signature spice blends to create a distinctive flavor all their own. This solution saves time, but batch-to-batch consistency can present a challenge, with many different variables that can happen in the kitchen.
Is the same amount of spice blend used in every batch? Is the density of the tomato base always reliably the same? Is every batch properly mixed for even dispersal of spices? If it's a cooked sauce, is it always simmered for the same amount of time, at the same temperature, to achieve the same depth of flavor?
These are all valid concerns, and your distributor likely has a solution. Ask them about fully prepared sauces made by manufacturers like Arthur Avenue Fully Prepared Sauces by Alive & Kickin'.
These fully prepared sauces are a great option: made from authentic Italian recipes with the same high-quality spices you would use — then frozen at the height of freshness for convenience, consistency and quality.
These ready-to-use sauces offer authentic flavor and deliver the extra value of ease and convenience.
If you're looking for variety in prepared sauces, it's great to know that manufacturers often offer both Alfredo and pizza sauces in their ready-to-use options. Some manufacturers, like Alive & Kickin', will even work with you to develop and create custom pizza and pasta sauces from your own favorite recipes — ensuring that these easy-to-use sauces deliver the unique, signature tastes you already know your patrons love, ready in a fraction of the time!
Not All Sauces are Created Equal: Pizza vs. Pasta
With all its advantages, fully prepared pizza sauce might seem ideal for doing double duty on both pizzas and pasta dishes. But it's important to note that pasta sauce differs from pizza sauce in several significant ways:
Water content: Pasta sauce contains more water and less pulp than pizza sauce.
Flavor: Pasta sauces are enhanced by flavors like those found in marinara sauce — onion, garlic, herbs — to a greater degree than uncooked tomato-based pizza sauce.
Texture: Pizza sauce typically has a higher fat content from olive oil, making it thick and pulpy in comparison to pasta sauces. Tomato-based pasta sauce is generally lower in fat, thinner and delivers a smoother mouth feel.
But just because pizza and pastas require different characteristics in their sauces doesn't mean you have to bog down your kitchen with making separate pasta sauces from scratch. Fully prepared, ready-made pasta sauces are available as part of many manufacturers' product lines.
Check with your distributor, and you'll likely find that they carry pre-made pasta sauces, all created with the same high-quality ingredients, attention to detail, and quality assurance as their pizza sauces, for results that rival made-from-scratch sauces. So you can deliver on your customers' expectations for aroma, flavor, and consistency in pasta dishes as well as on pizzas!
Both scratch-made and fully prepared sauce preparations can pack a powerful punch of flavor, but only fully prepared sauce can help you achieve a more efficient operation by streamlining your inventory, cutting costs and saving time — all without compromising quality or consistency.
Explore all your available options, from dough ball and crusts to fully prepared pizza sauces and pasta sauces, when you download our Alive & Kickin' Pizza Crust Product Overview Guide. Just click the button to download your guide today!