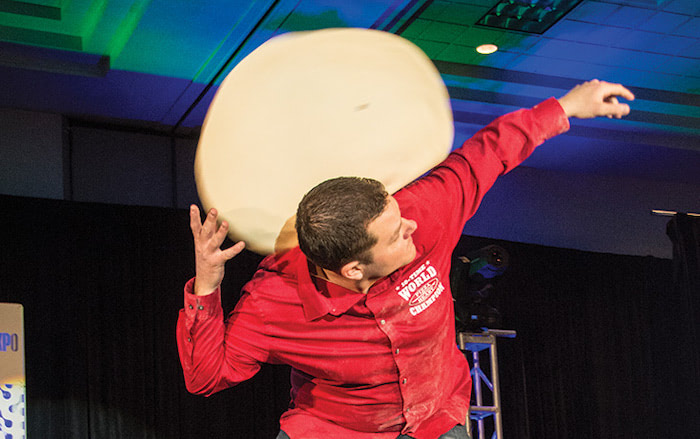 Where will you be March 4-7, 2019? If you're remotely involved with the pizza industry, you'll likely be at the world's largest pizza industry trade show — the 35th annual International Pizza Expo. The Las Vegas Convention Center will be home to the event, where more than 500 exhibitors and 7,000-plus attendees will share the latest in pizza ingredients, technology, equipment, marketing and more.
Alive & Kickin' has been an exhibitor at the Pizza Expo for over two decades, and our Booth 2755 will once again feature tempting dough and crust innovations — not to mention a custom 16" Basswood pizza peel giveaway courtesy of The Baker's Board!
What's Happening at Alive & Kickin' Booth 2755?
Our brand new Chicago Pastry Crust is sure to capture your imagination — and taste buds — with its rich flavor and unique, pizzeria-quality texture. But that's not all! Stop by Booth 2755 for a taste of some perennial A&K favorites, including:
High Heat Oven Dough Balls

formulated to withstand scorching temperatures while maintaining a crisp bottom, fluffy inside, and just the right amount of char.



Authentic Wood-Fired Pizza Crusts fired in a lava stone deck oven for a

genuine artisanal pizza experience.



New York Style Par-Baked Crust featuring the lightly crisp bottom, large rolled edge and just the right chew of a great, traditional pizza slice.

Extra Crispy Thin Crust — flaky, delicate, and irresistibly crunchy.

Ultra-Premium Alfredo and Ready To Use Pizza Sauces

made from authentic Italian recipes that call for the highest-quality ingredients — so good, they challenge any scratch-made sauces.
Insights from the Pizza Industry's Leading Experts
The Pizza Today® School of Pizza Management℠ has a full slate of workshops scheduled throughout Pizza Expo, taught by industry pros in the know about a wide variety of topics. You'll want to check these out:
All Things Dough: Learn From The Dough Doctor

— Tom "Dough Doctor" Lehmann

discusses many of the challenges brought to his attention during the past year and also takes audience questions



Tinkering With Your Crust

— A panel of dough masters

explores many of the crust choices and options facing pizza makers



Flour Blends

— Discover one of the hottest trends in pizza crusts and why you may want to develop a custom recipe around it
There's so much to see and do at Pizza Expo, we hope it's already on your calendar and that Alive & Kickin' Booth 2755 is at the top of your itinerary. We have a lot going on in 2019 and will likely be at a show near you!