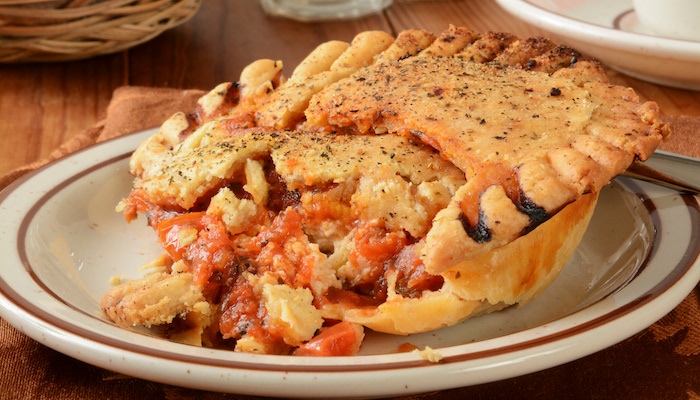 The carefree days of summer are fading into the fall harvest, and appetites are transitioning from cool and crisp to warm and hearty.
Pizza is a food for all seasons, so patrons will soon want foods with autumnal appeal. There's no need for a menu overhaul! Incorporate a few on-trend recipes and tips from our new seasonal pizza restaurant menus series for "limited time" options that really hit the spot.
Ready to create some pies your patrons will really (a-hem!) "fall" for? Read on.
Pizza Pot Pies
| | |
| --- | --- |
| 3C | Arthur Avenue frozen tomato sauce |
| 2C | diced roasted chicken |
| 2C | broccoli, cut into bite-sized pieces |
| 1-1/2C | diced mozzarella cheese |
| 1/2t | salt |
| 1/4t | freshly ground black pepper |
| 6 | 4oz All-Purpose Dough Shop® by A&K dough balls |
| 1/3C | olive oil |
| 6T | grated Paremesan cheese |
DIRECTIONS:
Special equipment: 6 (10 oz.) ramekins
Preheat oven to 400°F. In a large bowl, combine the tomato sauce, chicken, broccoli, mozzarella, salt and pepper. Stir to combine. Divide the chicken mixture evenly between the ramekins. Roll out the pizza dough and use a paring knife to cut circles that are one 1" wider in diameter than the ramekins. Place the circles of dough over the filled ramekins and press down to seal, making sure to pull the dough over the edge of the ramekin. Brush the top of the pizza dough with olive oil and sprinkle with Parmesan cheese. Cut a small slit in the top of the pizza dough with a paring knife. Bake until the pizza crust is golden, about 25 minutes. Remove from oven and let cool slightly before serving. Serves 6.
Serve with…
Pizza pot pies are oh-so-satisfying, so let them star on the plate. Side each ramekin with a house salad, or give the meal an exclusive feel with this Italian Leafy Green Salad.
Whole Wheat Autumn Apple Pizza
| | |
| --- | --- |
| 1 | 12oz UGN Dough Shop® by A&K dough ball |
| 1/4t | nutmeg |
| 1T | olive oil |
| 1 large | apple, very thinly sliced (just before use) |
| 5 slices | thick-cut bacon, cut into squares |
| 1 small | red onion, sliced |
| 1 clove | garlic, minced |
| 1C | freshly grated Gouda cheese |
| 1/4C | freshly grated Parmesan cheese |
| 8-10 leaves | sage |
DIRECTIONS:
Preheat oven to 375°F. Heat a skillet over medium heat and add 1/2T olive oil, then add onions with a sprinkle of salt. Cook, stirring occasionally, until caramelized, soft and juicy. In the last minute, add garlic and cook for 60 seconds. Take off heat and set aside. While onions are cooking, cut bacon. Place on a paper towel-lined plate, and cover with another paper towel. Microwave for 3-4 minutes, just until fat is rendered so the pizza is not greasy. Set aside.
Using a rolling pin or your hands, shape dough into a rustic rectangle or circle. Brush with remaining olive oil and sprinkle with nutmeg. Slice apples (do not slice earlier to prevent browning), then add about 1/4C cheese onto the dough. Place a layer of apples on the cheese layer. Add onions and garlic. Sprinkle the remaining cheese evenly over the top, then finish with bacon and another layer of apples. Add a few pieces of sage if desired.
Bake for 25-30 minutes, or until cheese is golden brown and bubbly.
Serve with…
Keep that "a little sweet, a little savory" profile going with Cinnamon-Roasted Almonds — a crunchy meal ender that complements apples in a most delicious way.
Profitable Promotions
Now that you have the eats figured out, induce trial of your "limited time" goodies with some fun patron promotions that also gets the community involved. Check out what we've cooked up for this month's recipes:
Pie — with a side of pie! Pumpkin spice is a perennial fall favorite. Capitalize on the trend! Partner with a local bakery to offer a "pie with a side of pie" coupon — a pizza pot pie purchase at your place means a discounted pumpkin pie at the bakery, and vice versa.
Pick a bushel of pizza! If your pizzeria is near some orchards, take advantage of the apple-lovin' traffic. Take to social media to announce the Whole Wheat Autumn Pizza and tell patrons to bring in their orchard purchase receipt (or some apples to donate to a local food pantry) for a special discount on this limited time offering.
These pizza shop menu ideas make adding options for fall easy as (pizza pot) pie. Follow the tips you'll find in The When, Why and How of Menu Upgrades to make these additions even easier. Click the button below to download your free copy of this informative eBook.