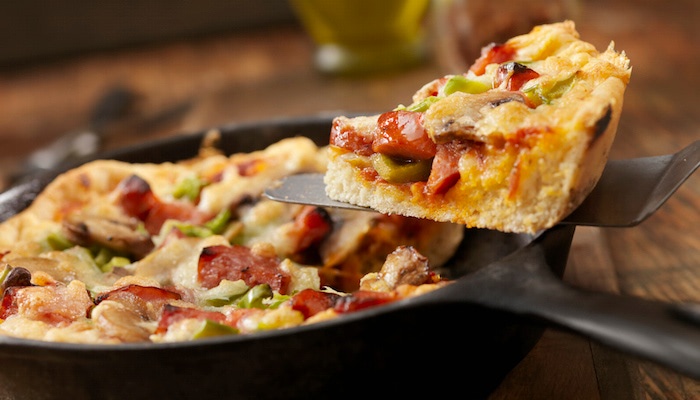 With about 15% of Americans citing pizza as their favorite comfort food, pies are a year-round go-to item, but offering the typical pie combinations isn't necessarily enough to keep your patrons satisfied — and coming back.
Take advantage of the change in seasons to introduce a few on-trend ingredients that play to patrons' need for nosh as they deal with winter blues, or offer some lighter options for those looking to rein in the calories in the new year. Either way, being a little adventurous with toppings can have a big payoff.
Broccoli, Potatoes, Bacon and Cheddar Pizza
| | |
| --- | --- |
| 1 small | russet potato, thinly sliced |
| 1 small | head of broccoli |
| Olive oil | as needed for roasting vegetables |
| 1/4C | ranch dressing |
| 1-1/2T | garlic, minced |
| 3/4C | shredded mozzarella cheese |
| 1/2C | cooked bacon |
| 1/4C | sharp cheddar cheese |
| 12 oz. | New York Style Dough Shop® by A&K Dough Ball |
DIRECTIONS:
Preheat oven to 400℉. Cut broccoli into small florets and drizzle with olive oil. Place broccoli on a sheet pan and sprinkle with salt and pepper. Slice potato thinly (approximately 1/8") and spread them out on another sheet pan. Drizzle potato slices with olive oil and sprinkle with salt and pepper. Roast both vegetables 8-12 minutes, or until almost fully cooked. Combine ranch dressing and garlic and mix well. Stretch pizza dough to to 11-12" and top with garlic sauce, mozzarella, potatoes, broccoli, bacon and cheddar cheese. Place on pizza screen and bake at 425° for 8-10 minutes or until golden brown and delicious.
Serve with…
Serve up sides of sour cream, chives, and extra crumbled bacon and cheddar cheese for patrons to pile on — these favorite baked potato toppers makes this hearty pie take on a new dimension of comfort.
Promote with…
Baby, it's cold outside! Encourage patrons to "bundle up" with a "Spuds and Suds" night that features a package deal: this potato-friendly pie and some brew samplers that complement it hand-selected from a local brewery.
Deep-Dish Pizza with Turkey Sausage and Brussels Sprouts
| | |
| --- | --- |
| 2T | olive oil |
| 22 oz. | All-Purpose Dough Shop® by A&K Dough Ball |
| 1/3C | prepared pesto |
| 1-1/2C | shredded provolone |
| 1/2 lb | Brussels sprouts, thinly sliced |
DIRECTIONS:
Preheat oven to 425℉ with a rack in the lowest position. Coat a 9" x 13" baking dish with 1T of olive oil. Press the dough into the pan, covering the bottom and sides. Top the dough with pesto, cheese, sausage and Brussels sprouts. Drizzle with remaining 1T of olive oil. Bake until crust is golden brown and the sausage is cooked through, 30-35 minutes. Let pizza rest for 5 minutes before serving.
Serve with…
Soup is a great winter warmer, and recipes like this delicious mushroom soup are a nice prelude to this pie that skimps on calories but not flavor.
Promote with…
Encourage patrons to "step it up" by leveraging the activity tracker craze to promote this healthier-for-you pie. Patrons who attain a certain number of steps during the day they choose to dine with you (and prove it by showing your server their device) get an instant discount: $1.00 for over 10,000 steps and $2.00 for over 20,000 steps.
Make your menu one for all seasons with our free eBook, Recipes for Pizzerias. This handy guide helps you reimagine appetizers, entrees, desserts and holiday specials — all featuring Alive & Kickin' Pizza Crusts and Dough Shop® by A&K dough balls. Click the button to download your free copy.