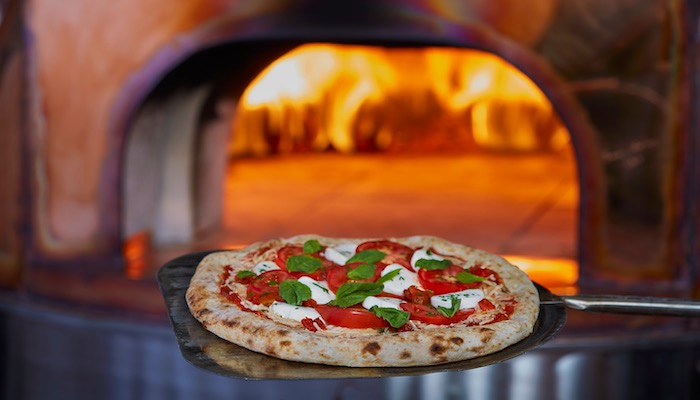 From bonafide foodies to the grab-and-go diner, people are clamoring for authentic food, and Alive & Kickin' has the ideal solution for venues ranging from stadiums, c-stores and movie theaters to any non-traditional foodservice location in-between.
Each of our Authentic Wood Fired Crusts is par-baked in a lava stone deck oven — you can't get more real than that! And there's absolutely nothing fake about the unmistakably smoky flavor, yeasty aroma, slightly crisp texture and perfect light char that come through when these crusts are final baked in any oven type from commercial to home kitchen.
Alive & Kickin' Authentic Wood Fired Crusts are the perfect foundation for today's trendiest toppings. But don't just take our word for it — try these amazing recipes and find out for yourself.
1. Cheesy Jalapeño and Bacon Pizza
1 - 16" Authentic Wood Fired Crust
8 slices bacon, cut into 1" pieces
3/4C chopped onion
2 cloves garlic, chopped
1/2t ground cumin
1/2t dried oregano
1/2t ground black pepper
1 pkg (8 oz.) reduced fat cream cheese, cut into cubes
1/4C sour cream
1C shredded mozzarella cheese, or more to taste
1/2C shredded reduced fat Cheddar cheese
4 jalapeño peppers, sliced into thin rings
1T dried parsley flakes

Preheat oven to 400℉. Place bacon in large skillet and cook over medium-high heat, turning occasionally, until evenly browned, about 10 minutes. Remove bacon with a slotted spoon to drain on paper towel, reserving drippings in the pan.
Sauté onion in bacon drippings until translucent, 5 to 7 minutes. Add garlic; continue to sauté until garlic is golden, 2 to 3 minutes. Season the onion mixture with cumin, oregano and black pepper. Stir cream cheese and sour cream into onion mixture until smooth and spreadable.
Spread the cream cheese mixture evenly over pizza crust. Top with mozzarella and Cheddar cheeses. Arrange bacon and jalapeño pepper rings over the cheese layer. Sprinkle parsley over entire pizza.
Bake on a pizza pan or sheet until crust is firm and crispy, and the cheese is browned and bubbly.


2. Barbecue Pulled Pork Pizza
1 - 12" Authentic Wood Fired Crust
2T barbecue sauce, or more to taste
1t chipotle chili powder
Salt and ground black pepper, to taste
1/2C prepared pulled pork
1/8C sliced onion
1/8C sliced red bell pepper

Preheat oven to 450℉. Place pizza crust on pizza pan or sheet. In a bowl, mix barbecue sauce with chipotle chili powder; season with salt and black pepper. Spread sauce over pizza crust. Arrange pulled pork, sliced onion, and red bell pepper evenly over pizza crust. Bake until toppings are hot and pizza crust is crisp on the bottom.


3. Thai Chicken Pizza
1 - 12" Authentic Wood Fired Crust
1 jar (7 oz.) peanut sauce
1/4C peanut butter
8 oz. cooked skinless, boneless chicken breast halves, cut into strips
1C shredded Italian cheese blend
1 bunch green onions, chopped
1/2C fresh bean sprouts (optional)
1/2C shredded carrot (optional)
1T chopped roasted peanuts (optional)

Preheat oven to 400℉. In a small bowl, stir together the peanut sauce and peanut butter. Spread over pizza crust. Arrange strips of chicken on top. Sprinkle on the green onions and cheese. Bake until cheese is melted and bubbly. Top with bean sprouts, carrot and peanuts, if using.


4. Pepper, Onion and Feta Pizza
1 - 12" Authentic Wood Fired Crust
3C chopped red, green, yellow and/or orange bell peppers (any combination)
1C sliced yellow or red onion, separated into rings
3 cloves garlic, crushed
2T extra virgin olive oil
1t dried Italian herbs
1/4t salt
1/4t crushed red pepper flakes, or to taste
3/4C crumbled herbed feta cheese

Preheat oven to 450℉. Place crust on pizza pan or baking sheet. In a bowl, combine remaining ingredients except cheese. Spoon mixture over crust. Top with cheese. Bake until vegetables are crisp-tender.
Versatility and artisanal appeal are just some of the ways Alive & Kickin' Authentic Wood Fired Crusts can boost sales. Check out our tip sheet, Wood Fired Crusts: Drive Profits 5 Ways for all of the benefits! Click the button below to access your copy now.