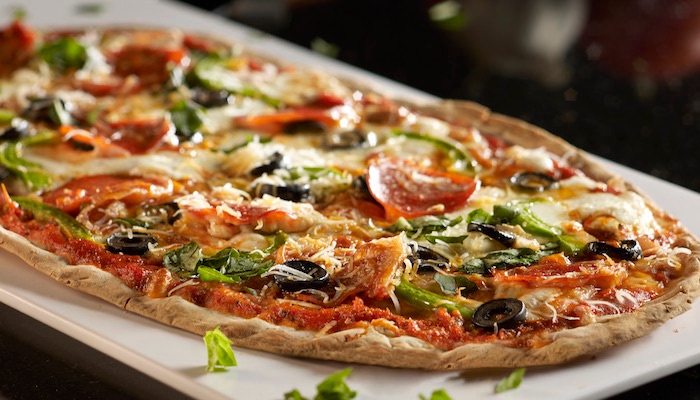 Chef Luke from Alive & Kickin' Pizza Crust is back to talk about one of today's most prevalent and adaptable menu trends: flatbread.


TRANSCRIPT — Why You Should Have Flatbreads on Your Menu
Flatbreads are a natural fit for any menu as their versatility allows you to experiment with just about any topping imaginable — from appetizers to entrées to desserts. Plus, flatbread dishes pair well with beer and wine, so there is a built-in upsell opportunity.
Let's take a look at five of the most popular and innovative ways flatbread is being prepared and served in pizzerias:
Margherita Flatbread
Flatbread topped with Soppressata salami, pizza sauce, cherry tomatoes, fresh mozzarella balls and fresh basil makes for an easy, delicious appetizer or entrée that everyone loves.
Spinach Artichoke "Dip"
Garlic Parmesan Flatbread topped with white sauce infused with garlic, mozzarella and Parmesan cheeses, artichoke hearts, spinach leaves and minced garlic is a trendy appetizer taste served in a completely new way.
Crackers
Oil or butter a mini flatbread and sprinkle with your choice of spices — a favorite combination mimics an "everything" bagel (salt, pepper, dried garlic, dried onion, sesame seeds, poppy seeds) — then bake it for custom crackers perfect for pre-meal snacking or as a side to salads.
Spicy Chicken Bacon Ranch Flatbread
A south of the border inspired favorite, this original flatbread (extra crispy with light sour dough flavor) is topped with a unique blend of mozzarella and Monterey jack cheese, bacon, chicken pieces and banana peppers. When it comes out of the oven, sprinkle with fresh cilantro for a super-easy dish made with ingredients routinely found in restaurant kitchens.
Apple "Pie"
A sweet treat in a flavor profile patrons love, this twist on apple pie is simply a flatbread topped with canned apple pie filling, brown sugar and cinnamon. Simple and inexpensive, this dessert has profitable add-on potential.
Even though each one uses a flatbread base, there's no mistaking the one-of-a-kind signature tastes of these recipes. That's what makes flatbread great — it's a single, simple option that lends diversity to your menu.