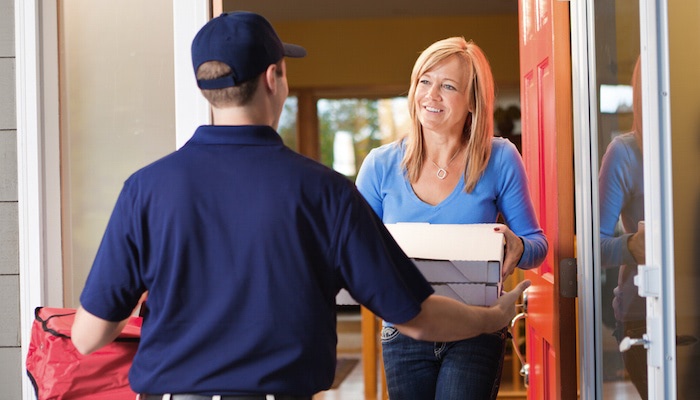 In 1889, when a famed Naples pizza chef trundled three different pizzas — fully cooked and piping hot — to the doorstep of the hungry and demanding King Umberto I of Italy and Queen Margherita of Savoy, little did he know that he started a trend that's alive and well hundreds of years later.
The U.S. food delivery market is valued at more than $22 billion in 2019 and expected to grow to more than $28 billion by 2023, driven primarily by the rise of online ordering. That's good news for pizzeria operators since pizza remains a perennial delivery favorite, with 83% of consumers reporting eating pizza at least once a month, according to a Technomics study. But other food choices previously not available to at-home diners other than through takeout is quickly changing the game.
In fact, a recent report, Meals on Wheels: The Digital Ordering and Delivery Restaurant Revolution, shows that delivery revenue is expected to grow at about three times the rate of dine-in or on-premise sales, from $25 billion in 2018 to $68 billion by 2023. According to report authors, Maria Steingoltz and Manny Piccola, "Online ordering has captivated a diner demographic increasingly pressed for time and harboring expectations shaped by the sophisticated world of consumer ecommerce."
The report supports findings by the National Restaurant Association showing that more than half of consumers who request food delivery order it online.
For information on current trends in the pizza industry, check out our latest infographic below!
Given all the options available and the increasing dependence on delivery, remaining competitive means coupling consistently delicious food with a memorable experience that will have customers choosing your restaurant the next time they want a restaurant-style meal at home.
Pizza pros and forward thinkers in other food categories are exploring technology and other innovations meant to make delivery easier for operators, play up the convenience of delivery and provide an unforgettable wow factor:
Big pizza chains and independents are leveraging technology to make ordering easier and to "personalize" the customer experience with online customer profiles, favorites and conveniences like digital trackers that report food preparation and delivery progress. Some companies are even beginning to experiment with delivery droids and driverless vehicles.
Restaurants of all stripes are realizing the advantages of third party delivery through companies like Seamless, UberEats, GrubHub and others

. These dependable, widely known and tap-an-app user friendly online services are convenient for customers, play to their technological bent, and give them numerous cuisine options to choose from for to-the-door delivery. The added competition in the delivery space is compelling pizzeria operators to use third party delivery, and there are fringe benefits that protect profits. Operators are spared the expense of hiring designated delivery staff, purchasing delivery-related signage, containers, etc., and investing in vehicles and insurance.
The use of food delivery apps continues to grow in popularity. Currently, about 38 million smartphone users use a food delivery app. That number is expected to climb to nearly 60 million by 2023.
Sometimes, delivery doesn't mean food-at-the-door. Pizza vending machines like Pizza ATMs

are creating a buzz, offering hot, custom pies for purchase in about 4 minutes.
Delivery is a substantial part of the restaurant industry, and only getting bigger. Outside the (pizza) box approaches are necessary to remain relevant among competitors and customers.
For more 2019 trends and info, download our infographic, The State of Pizza Nation in 2019!