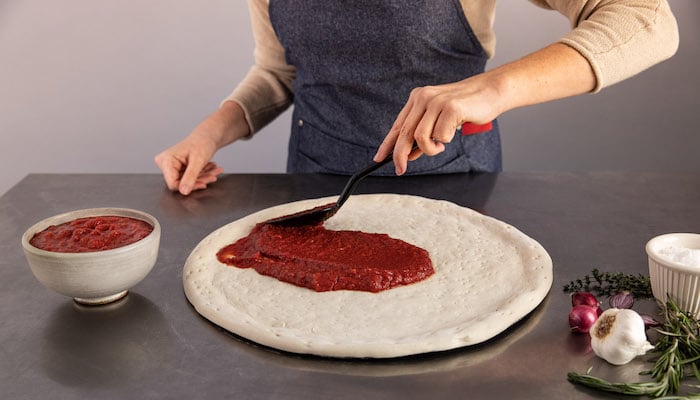 Globally the pizza market currently rings up $145 billion in annual sales.1 That's a respectable chunk of change, not to mention a compelling reason to consider starting a pizzeria or adding pizza to your menu.
But, also consider this: In the United States alone, there are nearly 77,000 pizzerias — not including add-on pizza options in c-stores, delis, and other operations.1 That number is also attention-grabbing because it glimpses the competitive landscape of the pizza biz. Don't despair! Since 93% of Americans eat pizza at least once a month, there's plenty of opportunity to get a slice of pizza profitability.2
The Why and How of Getting Started
There are any number of motivators to get a start with pizza. Whether you're adding onto your offerings or establishing anew, you know the reasons why you want to become a pizza purveyor.
The question that lingers is how you go about getting started with pizza. With that likely comes even more questions pertaining to several business aspects, including three key areas:
Operations: Business plans, staffing, and facilities are influenced by how you approach making and selling pizza.
Equipment: Ancillary to operations is the equipment needed to support the type of pizzeria you want to run and the pizza styles you'll offer. Equipment is often a major up-front investment, compounded by kitchen space needs, maintenance, and staff training.
Product: Clearly defining the recipes and pizza types you'll target for your business will help you decide on the products to use. Par-baked crusts and frozen dough balls from proven suppliers like Alive & Kickin' Pizza Crust are typically the best solution for saving time and money. In some instances, these products — particularly

frozen dough balls

— can also help you easily expand your offerings into appetizers, entrees, and desserts.
Finding the Answers
Confidently deciding to add or expand a pizza operation requires solid answers from trusted sources well before you open shop. As the pizza dough ball and crust experts, Alive & Kickin' is committed to guide you through decisions and product choices that align with your goals — and success.
Explore more in 5 Questions to Ask Before Getting Started With Pizza. Click the button below to download your copy of this handy reference guide now!
SOURCES
1MuchNeeded.com, Slice of the Pie: Pizza Consumption Trends & Industry Statistics, February 14, 2020
2Webstaurantstore.com, How to Open a Pizza Shop - What You Need to Know, August 3, 2018