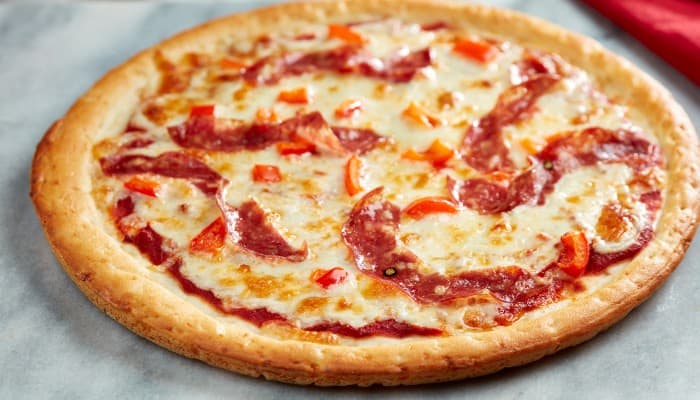 At one time, the idea of a gluten free pizza crust conjured up images of biting into a piece of cardboard with flavor to match. Health-conscious consumers, however, continue to search for pizza crusts that fit their dietary needs, flavor preferences, and budgets.
Few in the pizza industry have been able to perfect a gluten free crust that delivers a better-for-you product with outstanding flavor and delicate crunch. Add in consumer demands for vegan, preservative-free, and GMO-free pizza crusts, and the challenge grows.
Consumers Demand Gluten Free Pizza Crusts
Gluten free product claims no longer appeal to only those with dietary restrictions. Instead, gluten free caters to consumers who align themselves with healthy eating in general, as well as the rising popularity of vegan, low carb, and clean label diets.
This shift in consumer preferences is one reason the gluten free food market is forecast to nearly double in the next seven years, presenting major opportunities for restaurants, retail, and food service organizations.
Alive & Kickin's Gluten Free Options
To meet growing demand, Alive & Kickin' Pizza Crust is introducing an innovative product line of gluten free pizza crusts, including six flavorful varieties to tempt the taste buds of even the most discerning customer:
Original Gluten Free: The come-back-for-more taste that started the gluten free crust craze
Original Gluten Free Raised Edge: Same phenomenal original gluten free crust taste, crafted with a pronounced outer rim
Cauliflower Crust: Real cauliflower powers this delicious crust
Cauliflower Raised Edge: Real cauliflower in a crust featuring a distinct outer rim
Seasoned Cauliflower: Cauliflower crust enhanced with real mozzarella cheese and a savory blend of herbs and spices (non-vegan)
Personal Size Detroit Style: A rich, authentic pan pizza crust that works wonderfully as a "mini-deep dish" or even as breadsticks!
All gluten free varieties are GMO-free, and preservative free, and are par-baked to help extend a product's shelf life, whether frozen or refrigerated. Applications range from frozen to take-and-bake retail, as well as restaurant chains, entertainment venues, delis, QSRs, corporate dining facilities, and institutional cafeteria settings in hospitals, schools, care facilities, and more.
ALSO READ: Gluten Free Pizza Crusts — A Perfect Complement to Regular Par-Baked Crusts
Give customers health-conscious alternatives they're searching for without sacrificing signature flavors or the crunch they crave. Learn more about these growing consumer trends with our Better-for-you Eating fact sheet. Simply click the button below to get your copy. Then, connect with a pizza crust expert at Alive & Kickin' to discuss your needs.