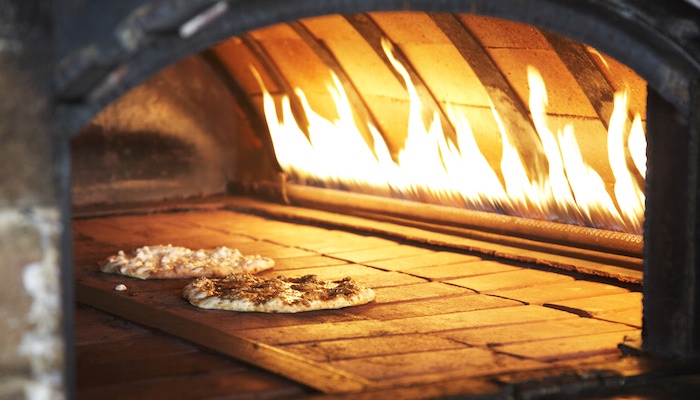 In previous articles we explored how your pizzeria concept drives oven selection and how physical space may limit or expand your oven possibilities. Now, let's talk pizza!
How does the type of oven you use impact crust performance and the flavor, texture, and presentation of the pies you serve?
Deck Ovens
Deck ovens are a great way to go if your pizzeria concept is fashioned around authentic pies. The "Old World" care it takes to tend pies baking on stone shelves over radiant heat instead of forced air makes deck ovens the top choice for providing a time-honored pizza experience.
Using dough balls really brings out the best in a deck oven and the New York-style or hand-tossed pies you create:
Crust color combines a rich, brown underside with a lighter edge
Crust texture combines a crispy bottom with a satisfying, chewy pull
Crusts blister without burning and do not affect the cheese's lightly baked color
Brick or Wood-Fired Ovens
Popular in upscale restaurants and with skilled chefs because of the high temperatures and fast baking speeds without using forced air, brick or wood-fired ovens are perfect for "gourmet" pies.
The preferred fuel — wood or coal — dictates the flavor of the pizza. Wood provides a deep, smoky taste and coal a more neutral taste, similar to that of a barbecue grill. Choosing a specific wood, like mesquite, or using compressed bricks also impacts flavor.
What differs very little between brick or wood-fired ovens, though, is how the pies perform — particularly when dough balls are used. The high, dry heat may char the dough which adds customer-pleasing flair to your classic Neapolitan or New York-style pies, plus:
Crust color that is light golden brown with intermittent deeper browning
Crust texture that is among the crispiest available if baked directly on the deck (without a sheet or pan)
Crusts that significantly bubble and blister for enhanced visual appeal
Conveyor Ovens
Conveyor ovens are prized in the industry for their versatility and ease of use due to forced air technology with no direct heat.
Dough balls and par-baked crusts perform equally well in conveyor ovens:
Crust color is evenly brown with a darker bottom
Crust texture is not quite as crisp as pies prepared in deck ovens, but it has more pull and chew than convection oven crusts
Crusts are evenly baked with some blistering
ALSO READ: How C-Store Ovens Can Ensure Consistent Pizza Across Locations
Rapid Cook Ovens
Rapid cook ovens combine forced air and infrared heating, which makes them easy to operate and ideal for almost all types of pizza.
Temperature and time settings can be adjusted to emulate the look and final bake of the other ovens. Par-baked crusts bake quickly and evenly on a screen. However, a pizza stone used in these types of ovens works wonders with dough balls and self-rising crusts. The intense heat helps keep the pizza stone hot while the air moving around inside the oven bakes the outer edges and toppings while melting the cheese perfectly.
Another great benefit of rapid cook ovens is they can accommodate a variety of foods other than pizza, like sandwiches or appetizers, increasing menu flexibility without adding extensive labor.
In pizzerias, an oven is more than a piece of equipment. It defines your business, your pies and the overall customer experience. Make the most of how you choose and use your oven!
Get even more information about the primary pizza oven types, including a quick-reference chart in our complete guide, How to Select the Right Oven for Your Pizza Operation. Click the button below to access your copy now.