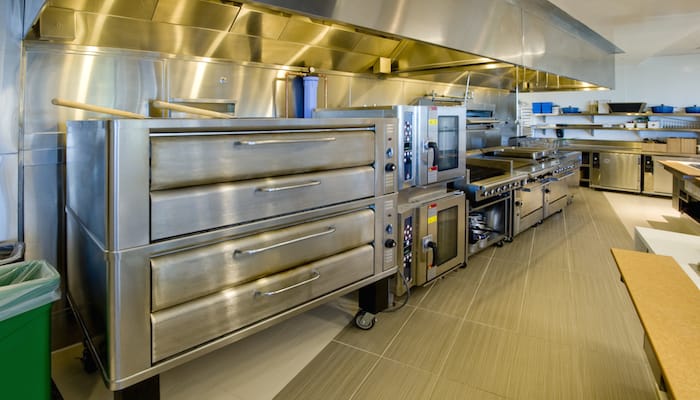 All pizza is not created equal. Toppings, sauce, crust — they all play a part. What's often overlooked in making a great pie, though, is the oven. The style of pizza you want to make — New York, Neopolitan, pan pizza, take-and-bake, delivery — will greatly influence the type of oven you should have for your operation.
In fact, your oven is so important that some pizza industry experts encourage you to make it the last item you choose in your equipment package purchase so as not to rush selection. Why? There are a number of practical considerations that factor into the right oven for your needs.
Oven Types
There are several types of pizza ovens, each with distinctive qualities that affect ingredient and crust/dough performance, preparation speed and taste:
Deck ovens feature shelves where the pies are placed directly on preheated stones for baking. Deck ovens are popular with independent and specialty pizzeria operators because they provide authentic taste without complex setup. New York style pies made with hand-tossed dough balls perform well in deck ovens.
Brick or Wood-Fired ovens are made of brick or clay, and provide a coal- or wood-fueled open flame near which the pies are rapidly prepared at temperatures of at least 600°F and often 800°F. Gourmet chefs and skilled prep staff tend to like this type of oven for its finessed, classic Neopolitan preparation techniques and upscale results. Because of the oven's high temperatures and quick bake times, specially formulated high-heat dough balls work best.
Did you know that you no longer need a wood fired oven to make delicious wood fired pizza? Learn how in this tip sheet:
Conveyor ovens are common in the industry because of their versatility and ease of use. The pizza is pulled through a forced air/convection cooking chamber on a chain conveyor belt, so training time is negligible and results are consistent. QSRs, delivery-focused pizzerias, and non-traditional venues like athletic stadiums favor conveyor ovens to prepare pies using dough balls, self-rising or par-baked crusts.
Double-door convection ovens are a money-saving option in that they require less energy and baking time for pies that are comparable to traditional methods—although not quite as crispy due to the use of forced air technology rather than direct heat. Relatively fast and easy to use, double-door convection ovens are often found in cafeterias and commissaries where pies are made on par-baked crusts.
Rapid Cook ovens combine the benefits of a microwave and pizza oven into one piece of equipment. Forced air and heating elements on top and bottom make rapid cook ovens customizable in that heat settings and heat direction can be controlled to determine pie look and final bake. Small and easy to use, rapid cook ovens are often used in non-traditional locations or in operations where pizza is a secondary product. Self-rising and par-baked crusts are typically used for pie prep.
Though not a piece of an operation's equipment package, we should also mention home ovens for those who sell frozen or take-and-bake versions of their pies. Home ovens are typically a slower bake with pies directly on the rack, giving both self-rising and parbaked crusts a nicely crisp finish.
With so much to consider, it's difficult to believe that there are even more decisions to be made about your oven — but it's true! Check out parts two and three of this blog series, where we discuss the impact of space and other logistics on your oven selection and take a look at how your oven impacts pie flavor, texture, characteristics and quality.
Get even more information about the primary pizza oven types, including their impact on your operation and your pies in our complete guide, How to Select the Right Oven for Your Pizza Operation. Download your free copy now by clicking the button below.