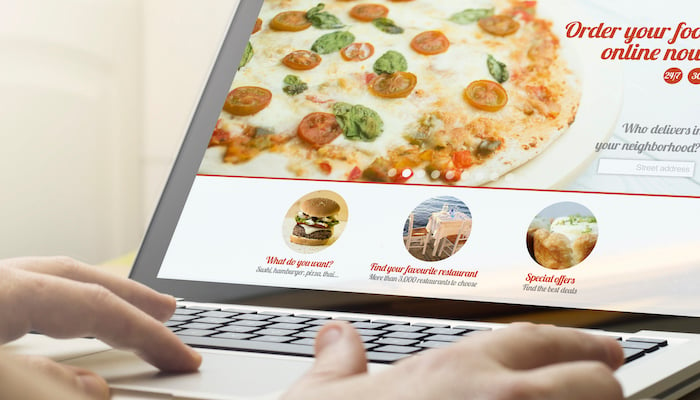 Projected to grow to more than $29 billion by 20241, the U.S. food delivery market already reflected U.S. customers' appetite for convenience. That's good news for pizzeria operators since pizza delivery remains a perennial favorite, and 83% of customers report they eat pizza at least once a month.2
Unfortunately, the good news about delivery for pizzeria operators — and restaurateurs in general — has been short-lived in light of the coronavirus (COVID-19). Food delivery has gone from a free-will choice to a daily requirement for tens of thousands of people as states "lock down" in response to the global pandemic.
It's up to pizzeria operators to make responsible adjustments to keep customers safe at home. Encourage customers to follow these best practices3:
1. Order online or over the phone.
2. Instruct delivery drivers to leave your order outside the door.
3. Pay with a credit or debit card ahead of time — and don't forget to include a tip since handling cash could introduce illness risk.
4. Wash your hands before and after enjoying your pizza.
High-Tech Help
The seismic ramp-up in competition in the delivery space is creating a push-pull for operators in terms of business decisions. There is great sensitivity around the impact — known and yet unknown — of COVID-19; however, part of being responsible to customers is remaining open to serve them.
Pizza pros and forward thinkers in other food categories are exploring technology and other innovations meant to simplify food delivery4:
Big pizza chains and independents are leveraging technology to make ordering easier and to "personalize" the customer experience with online customer profiles, favorites, and conveniences like digital trackers that report food preparation and delivery progress. Some companies are even experimenting with delivery droids and driverless vehicles.

Restaurants of all stripes are realizing the advantages of third-party delivery through companies like Seamless, UberEats, GrubHub and

others

. These dependable, widely known and tap-an-app user friendly online services are convenient for customers, play to their technological bent, and give them numerous cuisine options to choose from for to-the-door delivery.

The use of food delivery apps continues to grow in popularity. Currently, about 44 million smartphone users use a food delivery app. In the U.S. alone, 50 million will use a food delivery app by the end of next year.

4

That number is expected to climb to nearly 60 million by 2023 — which constitutes nearly a quarter of smartphone users.

5

Pizza Delivery Promotions
Outside the (pizza) box approaches are necessary to remain relevant among competitors and customers:
Pizza meal kits are extremely popular. They give customers flexibility in when they have pizza. Instead of delivering a fresh, hot pizza to the door, provide a kit that includes dough balls, sauce, cheese and toppings for two 10-inch, one-topping pies.

Discounted gift cards with delivery purchase encourage customers to think of you first when choosing future pizza delivery. Who doesn't love a good deal?

Social media blitzes will help you and your customers during the crisis. Stay on top of your Instagram, Facebook, and Twitter accounts since customers likely check those before your website for info including curbside pick-up deals, delivery options, and discounts.

Now Hiring: Delivery Drivers
Pizza delivery is a staple during the best and most challenging times. Reliable people are needed to get meals delivered, and pizzerias are scrambling to hire and train drivers. Do you have the needed staff in place? Take some tips from pizza chain powerhouses:
Offer permanent positions. Permanency will attract a different caliber of driver. It also reflects how much you value the positions and the people holding them.

Expedite training. Faster training doesn't mean cutting corners. Strategically prioritize training steps so teams get the most out of condensed sessions.

Review procedures. Is your current delivery protocol sufficient and efficient? Identify potential time-wasters and work at streamlining the process, if needed.

Be mindful of options. Evaluate how you're accommodating customer safety. Incorporate curbside pickup if possible to keep customers healthy and drivers from being overbooked.

The COVID-19 pandemic shines a light on just how quickly the world can change. See what we've learned so far with our Lessons From COVID eBook. Click the button below for your copy now!
SOURCES
1Statista, Online Food Delivery - United States
2PMQ, The 2019 Pizza Power Report: A State-of-the-Industry Analysis
3PMQ, Free Infographics: Use These Free Materials to Promote Your Pizzeria and Educate Customers
4FoodableTV, The On-Demand Delivery Trends and the Technology Driving Them
5GroceryDive, 23% of US smartphone users will use a food delivery app by 2023