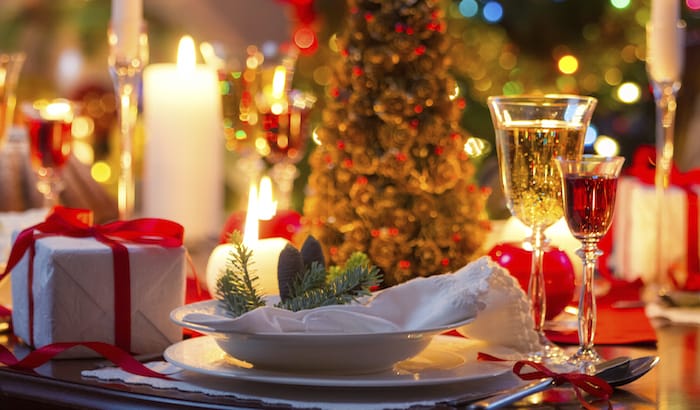 'Tis the season for celebrating, and your pizzeria faces some stiff competition for the holiday dining dollar. However, with a bit of ingenuity and a touch of recipe magic, you could wrap up your "fare" share of holiday sales.
Old Favorites, New Holiday Traditions
As evidenced by the Thanksgiving recipes we featured in a previous post, patrons seek out familiar holiday tastes served in different ways. For some seasonal flair, pile the flavors they crave atop crusts made using Dough Shop® by A&K Dough Balls and formed into wreaths, evergreen trees, candy canes, snowmen and other holiday motifs.
Try this jolly holiday pizza recipe for inspiration:
Pizza Wreath with Arugula and Salami
| | |
| --- | --- |
| 16 oz. | Dough Shop® by A&K Dough Ball |
| 8-9 | cheese sticks |
| 4 oz. | Arthur Avenue Ready To Use Pizza Sauce |
| 2 C | mozzarella cheese, shredded |
| 2 C | baby arugula |
| 2 | red bell peppers, 1 diced and 1 sliced |
| 1 | green bell pepper, diced |
| 2 oz. | spiced salami, thinly sliced |
| 1/2 C | parmesan cheese, grated |
| | (optional) balsamic vinegar, ranch dressing, extra pizza sauce |
DIRECTIONS:
Allow dough ball to rest 5 minutes and then roll it into a large circle.

Slice the cheese sticks in half lengthwise and place them around the edges of the pizza dough. Roll the edges up and over the cheese, pinching the dough to seal.

Using a 4-1/2" circle cookie cutter or sharp knife, cut a circle out of the middle of the dough. Use the leftover dough to fill in any thin spots around the wreath.

Spread on pizza sauce and sprinkle with cheese. Add the arugula and diced red and green peppers. Sprinkle with more cheese and add the salami slices.

Bake at 400°F for 25 to 30 minutes or until cheese is melted and bubbly.

While the pizza is baking, cut slices of the remaining red pepper into strips and arrange them in the shape of a bow. Garnish the pizza with fresh arugula and Parmesan cheese. Place pepper bow at the top and serve with balsamic vinegar, ranch dressing, and extra pizza sauce if desired.
Make the Holidays Special(s)
Give patrons the gift of variety with holiday specials offered exclusively in your pizzeria. Use your imagination for by the slice, by the pie and combo deals that can be themed for any holiday, like these merry-making ideas:
Slice and Suds
Since pizza and beer go together like Santa and the North Pole, consider a premium slice-and-suds combination that pairs a slice of pizza with a holiday-themed microbrew. You could even switch out the brew every week in December to encourage repeat patronage and higher profits.
Savory and Sweet Cookies
For the kiddies (and kids at heart), roll out a Dough Shop® by A&K Dough Ball and use cookie cutters to make some appetizer-sized pies in festive holiday shapes. Bake them at 350°F, top and finish like you would a full-sized pizza, but take care when baking as these tiny tempters need less oven time. Try up to 10 minutes for the crust and up to eight minutes for the finish bake—your eye will know the perfect golden brown goodness.
For a sweet surprise, use this recipe to delight patrons with a quick-and-easy cookie pizza that tastes like rich hot cocoa:
Cookie Pizza
| | |
| --- | --- |
| 16 oz. | tube refrigerated chocolate chip cookie dough |
| 1-½ C | miniature marshmallows |
| 1/2 C | red and green candy-coated chocolate candies |
| 1/2 C | hot fudge topping, heated |
DIRECTIONS:
Heat oven to 350°F. Grease 12" pizza pan with shortening or cooking spray. Lightly press cookie dough evenly in bottom of pan to form crust.

Bake 12 to 17 minutes, or until golden brown.

Sprinkle marshmallows and candies evenly over crust. Bake 2 to 3 minutes longer, or until marshmallows are puffed.

Drizzle hot fudge topping over top. Cool completely. Cut into wedges and serve.
Think Outside of the (Recipe) Box
Your menu is just part of your patrons' pizzeria experience. Use these traffic-building tips to surround patrons with the sights, sounds, and savings of the season:
Merry Movies
Have some wall space? Run classic holiday movies for a "dinner and a show" surprise. Patrons will hang around for the movie, and munch all the while. Plus, you can use the movie setup as a promotional opportunity. Make a short video promoting your restaurant specials, upcoming events and how to make reservations for special nights like New Year's Eve.
Themed Threads
Serve up a side of holiday spirit! Waitstaff decked out in Santa hats or the ever-popular ugly holiday sweaters will put smiles on your servers' faces and put patrons in a merry — and spending — mood. "Dress" the restaurant, too, with some tabletoppers in vintage holiday color combinations complemented with fresh greens or ornaments. No need to go overboard. Less is more when creating a spirited atmosphere.
Calling Cards
Your regular patrons are important — let them know it by sending holiday cards. No promotions. No ads. Just a simple greeting of the season acknowledging your gratitude for their loyalty. You may also consider following it up with a telephone call to offer priority reservations for busy nights, like New Year's Eve.
Holiday Social
Use social media to stay top-of-mind during the hectic holidays. Offer printable coupons or announce "today only" specials to create a sense of urgency that drives traffic and sales to your pizzeria.
It's easy to take advantage of all the hustle and bustle of the holidays with some creative thinking, a little planning, and some fresh ideas from Alive & Kickin' Pizza Crust! By enhancing your menu with some special holiday pies, you'll attract hungry shoppers, busy families and coworkers looking for something to make their holiday bright and merry.
But, why wait for them to come to you? Download our Holiday Catering Guide for Pizzerias to learn the benefits of starting, marketing and leveraging a seasonal catering business. Click the button below for your copy!