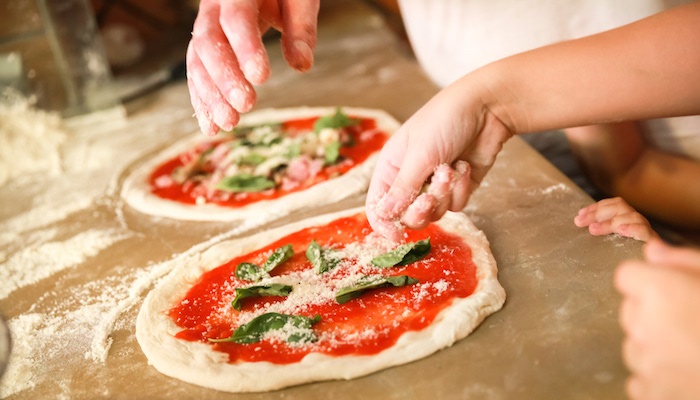 Ethnic fusion, known to foodies more simply as "fusion cuisine," is currently a hot trend in the culinary world, but the concept is hardly new. As long as people have crossed borders and blended cultures, foods from different locales and flavor profiles have been combined out of necessity and curiosity.
Pizza is a versatile canvas for experimenting with fusion cuisine, and the possibilities are limited only by your imagination. Traditional tomato sauce might be switched up with tangy barbeque, cool ranch or a balsamic reduction – or maybe no sauce at all (as in this Figs, Rosemary and Parmesan Grilled Pizza). Herbed crusts, spicy cheese blends and unconventional toppings like peanuts, chili, bean sprouts and basil-infused peaches introduce hints of Morocco, Thailand, Latin flare and a world of other tastes.
Take the first step on your patrons' flavor journeys by trying your hand at these fusion cuisine restaurant pizza recipes.
Sweet Potato and Curried Red Lentil Pizza
| | |
| --- | --- |
| 3/4C | Dry red lentils |
| 1-1/2C | Water |
| 1T | Olive oil |
| 2 cloves | Garlic, minced |
| 1 small | Onion, chopped |
| 1/2 small | Eggplant, diced |
| 1 lb. | Sweet potato, cubed |
| 1 can (14.5oz.) | Italian-style diced tomatoes, undrained |
| 1t | Ground ginger |
| 1-1/2t | Curry powder |
| 1T | Ground cumin |
| 1 (16") | Cobble Hill Par-Baked Ultra Thin Pizza Crust |
| 1/4C | Romano cheese |
| | Salt and pepper, to taste |
DIRECTIONS:
Combine the lentils and water in a small saucepan. Bring to a boil, then cover and simmer over low heat for about 20 minutes, or until tender. Drain and set aside.
Preheat oven to 375°F. Spray a pizza pan with non-stick cooking spray. Heat oil in a skillet over medium heat. Stir in garlic and onions; cook until soft and slightly browned. Stir in eggplant and sweet potato. Pour in about 1/2C of liquid from canned tomatoes. Simmer until juices are absorbed. Stir in tomatoes, ginger, curry powder, cumin, salt and pepper; simmer until sweet potato begins to soften, about 15-20 minutes. (If juices cook off before potatoes are fully cooked, stir in a small amount of water and cover).
Spread with lentils evenly across the surface of the crust out to the edges. Spread sweet potato mixture evenly on top, and sprinkle with cheese. Bake directly on oven rack or on a screen until the edges are browned, about 10-13 minutes.
Serve with…
Beer is the perfect curry accompaniment, and there are a number of classic Indian beers (beyond the ever-popular India Pale Ale (IPA)) that are readily available and really hit the spot. Cheers!
Roasted Squash and Tocino** Pizza
| | |
| --- | --- |
| 20 oz. | Ultra Grain Dough Shop® by A&K Dough Ball |
| 1C | Garlic cilantro pesto |
| 10 oz. | Pork or chicken tocino (or sausage substitute**) |
| 8 oz. | Squash, diced into cubes or small wedges |
| 10-12 | Fresh tomato slices |
| 12 oz. | Fresh mozzarella |
| | Sea salt for sprinkling |
DIRECTIONS:
Preheat oven to 375°F. Roll out pizza dough per instructions. Place on baking sheet. Spread garlic cilantro pesto evenly over dough. Set aside.
In a wok or skillet, pan-fry the tocino (or sausage) for approximately 5 minutes on each side until golden brown. Place tocino (or sausage) on a plate and allow to cool for a few minutes before roughly chopping into bite-sized pieces.
Top the pizza evenly with ingredients in this order: tomato slices, mozzarella slices, tocino slices (or sausage) and squash cubes. Bake for approximately 25-35 minutes. Remove pizza from oven and evenly sprinkle with sea salt. Cut into slices and serve immediately.
**Tocino is a Filipino sweet, boneless pork or chicken meat that is already marinated in an assortment of spices including garlic, sugar, salt and paprika. Tocino is available in most Asian markets. If you can't find tocino, use your favorite sausage, stir-frying it out of its casing before spreading over pizza.
Promote with…
Host a "Wok and Roll" theme night. Feature Roasted Squash and Tocino Pizza and give free eggroll appetizers to patrons wearing rock band concert T-shirts.
Drive traffic with on-trend flavor adventures using the advice you'll find in The When, Why and How of Menu Upgrades. Click the button below to download your free copy.