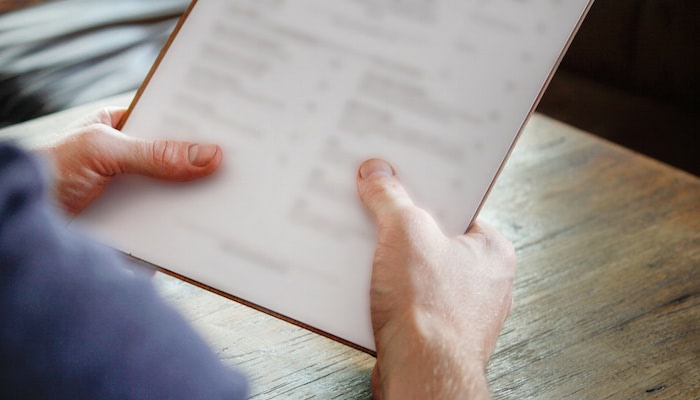 The average person makes about 200 food-related decisions per day. If some of those choices happen in your restaurant, you want to make sure to put your best foot forward with a menu that's current, on-trend and appropriately branded. To do so, many menu experts suggest a full upgrade every 12 months.
While simple in theory, application is a different story. Many operators put off the annual overhaul for any number of reasons, or feel that ongoing simple tweaks to offerings or price points and fluctuation in food prices are sufficient. What's being overlooked are opportunities to use your menu to include trendy foods, keep your loyal patrons interested in coming back, and respond to marketplace threats (like that new pizzeria that opened six blocks over).
Not leveraging the inherent power of your menu could mean leaving money on the table, or steady erosion of your brand and customer base. Avoid these potential business-busters by evaluating your current menu for these telltale signs that it's time for an upgrade:
1. It doesn't fit your restaurant
Everything in your restaurant needs to be on brand and in keeping with your restaurant's theme or concept. A menu misstep could really confuse patrons. If you've updated your decor, update your menu to match, for example.
2. The sections are out of order
Maintain the expected food list order—appetizers at the front of the menu, desserts and beverages to the back. Try listing your more expensive items first in each section to maximize profits. Oftentimes people select what's at the top of the section when scanning.
3. It includes clipart or badly executed food photos
Clipart is passé and clutter-making from a design perspective, and food that looks unappetizing will not entice patrons to order.
4. Typos abound
Misspellings, punctuation errors and grammatical gaffes signal a lack of attention to detail that may leave patrons wondering if they can expect the same oversight in your kitchen.
5. It's laminated
Professional lamination is expensive, and can add up with frequent menu reprints. Opt for clear-sleeved plastic jackets or synthetic paper for fast and economical upgrades. Both options are reasonably priced and easy to clean.
Sound like your menu? It's time for a change! Download The When, Why and How of Menu Upgrades for expert advice on how to transform your menu into a dynamic marketing tool that can help you boost profits, increase visibility and keep patrons coming back for more. Click the button below to get your free copy.