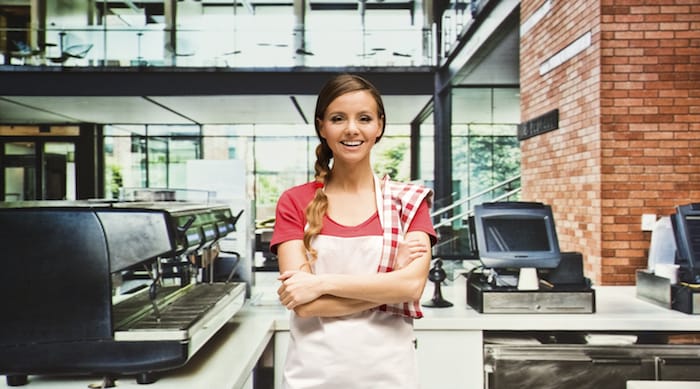 With annual sales exceeding $45 billion (41% of that independent and small chains), the U.S. pizza restaurant industry is strong. In fact, a Technomic study revealed that 83% of Americans eat pizza at least once per month. Yet, certain challenges have emerged that are forcing today's pizzeria operators to evaluate how they'll grow profits and increase profit margin this year and moving forward.
Although the following dozen profitability tips cover everything from costs to marketing to operational efficiencies, consider paying specific attention to these first four trends.
Keep Tabs on Profitability Trends
Developing technology
The search is always on for the next advancement that will make ordering/delivering pizzas quicker and easier for the consumer. While smaller, independent pizzerias may lack the capital to invest in pizza-making robots or self-driving delivery vehicles (these are actual developments), pizzeria operators should keep an eye open for new, cost-cutting technologies, whether that's an ordering app, a labor-saving piece of equipment, or an upgraded POS system.
Easy ordering
Mobile-friendly online ordering increases average check size by 15%, boosts order frequency, improves service speed, and pleases customers (43% say online ordering and tracking is "appealing or extremely appealing.") Yet, "Domino's AnyWare" goes further, enabling customers to order from any of their favorite devices: in-home assistants (Amazon Echo for instance), smart TVs, smart watches, and social media platforms.
Premium, locally sourced ingredients
Consumers are becoming more educated on individual pizza components, increasingly insisting on the freshest, healthiest ingredients. In their minds, "locally sourced" and "quality" are synonymous and imply the freshness they demand. This trend is driven largely by younger consumers, who also demand the latest technology (see above).
Fast-casual
The "quality food at an affordable price" concept that launched fast-casual remains a force, with fresh, customizable pies at modest price points being offered. With 28% of consumers visiting fast-casual establishments at least once per month (Technomic study), fast-casual is on track with full-service pizzeria restaurants.
Evaluate Costs
Hedge for volatility
Containing costs while providing patron value is always a delicate balancing act. The food industry is particularly susceptible to market fluctuations that operators cannot control, so be aware of what's happening in ingredient markets, and adjust menus and pricing accordingly.
Increase prices when necessary
Price spikes in commodities like cheese, grains, chicken, pork, and beef as well as labor are driving an average 9-10% patron cost increase, meaning operators are adding about $1 per person to every check. Yes, it's a price increase, but it's small enough so as to not frighten customers away.
Seek Out Efficiencies
Kitchen design
Examine your back of the house flow. Is the space and layout most efficient for food storage and preparation? Any kitchen glitches could be costing your staff time — and you money.

Energy efficiency
Clean and maintain vents, exhaust hoods, gaskets, drainage hoses, and HVAC filters weekly
Train staff to shut off lights and ovens during non-peak times, keep oven doors closed, and use a programmable thermostat
Install ceiling fans
Replace traditional light bulbs with the compact fluorescent variety
Insulate your restaurant's attic to prevent excess heat exposure
Take advantage of tax incentives or energy improvement programs your state may offer
Make Marketing a Priority
Target millennials
Reach the generation that wants restaurants to "come to them" by using social media and mobile marketing to promote exclusive offers —like a Twitter-only coupon, for example — and to communicate the basics like your location, hours, menu, reviews, and nutritional information.
Offer smart promotions
Timing is everything, especially when it comes to promotions. Being shrewd about aligning promotions with supply chain management and sourcing analytics helps you launch products successfully and meet increased demands.
Tout community involvement and social responsibility
Customers and staff like to feel that they are making a difference. In fact, 73% of customers frequent restaurants that support local causes, and 63% value sustainability. An added benefit of social responsibility, like reducing water usage or food waste, is cost savings to your operation.
Add Seasonal/Limited-Time Offers
Adding seasonal pizza varieties to your menu and timely promotions helps prevent customers from getting bored and keeps them coming back for a variety of pies. Some examples of seasonal feature pizzas are:
Winter:

"rib-sticking" comfort food recipes like mashed potato or mac & cheese. Also consider festive holiday recipes like these.
Spring: light dessert pizza and breakfast pizza around Easter time are just two examples of endless spring varieties.
Summer: fresh garden recipes like "light-and-tasty BLT" pizza.

Fall:

festive flavors like andouille sausage with sauerkraut for Oktoberfest, and t

ry some Thanksgiving recipes, too

!

All year: "limited-time" offers really do drive excitement
When you focus on the trends that your customers want and potential profit-boosting operational efficiencies, costs, and marketing, you can enjoy a great second half of 2019 and months to come!
Expanding pizza operations can boost profits by switching from scratch-made dough to pre-made dough balls. Learn more in our quick-reference infographic on the 5 Ways Pre-Made Dough Balls Streamline Pizzeria Kitchen Operations.