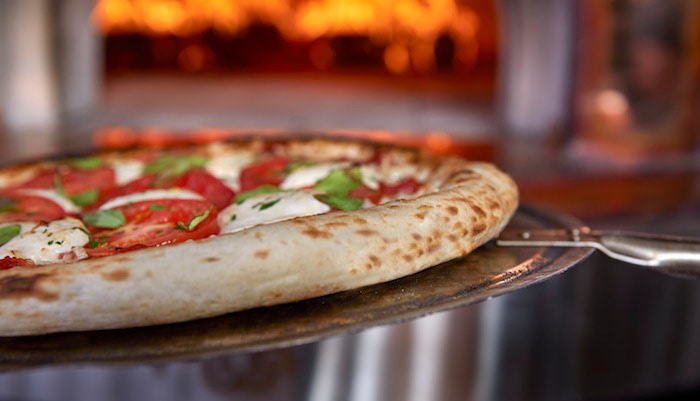 About 350 slices of pizza are sold every second in the United States. That kind of demand generates a lot of business, especially for venues that offer on-trend pizza that customers seek out. There's always a place for tried-and-true pizza crust favorites like deep dish and thin crust, but ignoring the sustained popularity of elevated offerings like wood fired pizza could mean a less than robust bottom line.
This presents a dilemma for operators of stadiums, movie theaters, c-stores, delis, club stores and other non-traditional foodservice venues. How can you offer, and profit from, pizza items with artisanal flair when your operations typically lack the speciality ovens and prep time needed to do so?
The Perfect Solution
The pizza experts at Alive & Kickin' Pizza Crust are the first in the U.S. to have figured it out: Authentic Wood Fired Pizza Crusts that are par-baked in a lava stone deck oven for an easy, ultra-premium crust that can be final baked in any oven, anywhere!
But, Authentic Wood Fired Crusts offer so much more than easy prep. Their unmistakably smoky flavor, slightly crisp texture and perfect light char are ideal for upscale pizza creations that set your operation apart from the competition. Wood fired crusts are fantastic for traditional toppings like pepperoni, margherita, and four-cheese, but they also work wonderfully for more artisanal choices like spinach and feta or blue cheese and smoked chicken. They also can be adventurous. Top wood fired crust with seafood, unexpected veggies like eggplant, or ethnic tastes like thai red curry pumpkin pizza and all at once, customers may come to your entertainment venue or swing by your c-store primarily for the memorable pizza.
Redefining the Market
Being able to redirect traffic through your door by enhancing the eating experience is particularly important nowadays, when people have many choices about how, when and what to eat — including staying home. If your movie theater pizza, for example, features Authentic Wood Fired Crusts, a movie night out becomes more appealing than staying home with Netflix.
The opposite is also true. If people are inclined to dine out, as is typically the case when the economy supports discretionary spending, then pizza sales through take 'n' bakes, delis and similar operations can suffer. However, introducing Authentic Wood Fired Crusts to your pizza line makes these convenient pizza pick-ups viable — and sometimes preferred — alternatives to sit-down restaurant options. Competing in the premium pizza arena also means netting premium profits since customers value an artisanal food experience and will pay more for it.
To learn more about how exclusive Authentic Wood Fired Crusts from Alive & Kickin' Pizza Crust can change your offerings and bottom line, check out our tip sheet Wood Fired Crusts: Drive Profits 5 Ways. Click the button below to get your copy now.