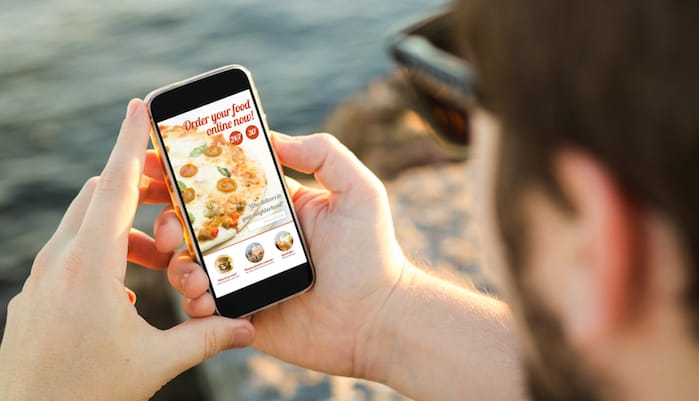 It used to be that customers had to make a few basic decisions about their pizza order: crust type, toppings and dine-in, takeout or delivery. Customers still call these shots, but now they also get to choose how to place the order.
Do they go old school with in-person or phone ordering? Or do they prefer an online or mobile app option? Maybe the super techy ordering tools the industry "big boys" are developing — like texting a pizza emoji or scanning a menu using eye motion technology — is appealing.
Pizza order innovation is evolving to keep pace with technology and customer demand for convenience — and the impact is reflected in industry statistics. A recent report shows digital ordering growing 300% faster than dine-in traffic, and that mobile ordering makes up nearly 25% of all restaurant food orders. Those are some hefty percentages that could take a real bite out of your bottom line.
Digital ordering sounds complicated and, in some cases, it is sophisticated. But, there is a range of options available that can meet the needs and capabilities of owner/operators of all sizes so even independent pizzerias remain competitive and maximize revenue.
Online
The Internet is second nature and, increasingly, people are choosing websites over the telephone to order food. In fact, online orders are 18% higher than phone orders, partially due to the convenience and also because customers feel they can spend time on their orders or place specialty orders without confusion.
To best serve your customers online, make it easy. User-friendly interfaces will attract loyal repeat traffic if customers can:
View the menu without entering their address or other contact information
Save their orders for future use
Choose to checkout as a guest user or create an account first
Mobile Apps
Many large chains have their own mobile apps that serve as both a customer ordering portal and an enhanced marketing tool. However, an app can cost tens of thousands of dollars to develop and maintain — which is usually enough for independent operators to shy away from this technology.
But, there are third party alternatives to full-blown app ownership like:
GrubHub provides users with a one-stop option for finding and ordering from local restaurants. With app search criteria like cuisine style, restaurant name or menu item, your pizzeria and delicious pies will be easily visible and accessed by new and repeat customers.
Push for Pizza is a newer app phenomenon that further simplifies the customer experience. A few clicks are all that's required for setup and, afterwards, customers can order pizza from you with the push of one button. Your pizzeria is always within reach!
Advanced Technologies
Larger chains are embracing emerging technologies to provide new, unusual and innovative ways to make getting pizza interesting and easy.
In addition to leveraging Twitter, smart cars and Amazon Prime, two of the largest pizza providers are taking digital ordering to the next level:
One chain has implemented pizza emoji texting and is exploring an "Easy Ordering" option through smart watches
Another is developing an interactive, virtual "Smart Table" order option and is determining the viability of using eye motion technology to track customers' menu scanning
Not surprisingly, these super-techy possibilities are (or will be) the priciest options, making them somewhat out of reach for independent operators or smaller chains that are just starting to implement digital ordering. However, it is important to know what is on the horizon in the industry since advancements like these will eventually impact your operation.
Using technology may never be a full substitute for the personal touch of in-house pizzeria service, but acknowledging the shift in trends and taking steps to adopt technology that fits your capabilities will keep your independent operation connected to customers — and profits.
In the midst of all this change is a constant – Alive & Kickin' Pizza Crust's commitment to providing the dough and crusts you need to deliciously fill orders, regardless of how they're placed.
Make the most of technology by downloading Social Media 101: The Beginner's Guide for Pizza Restaurants. Click the button below for your free copy!