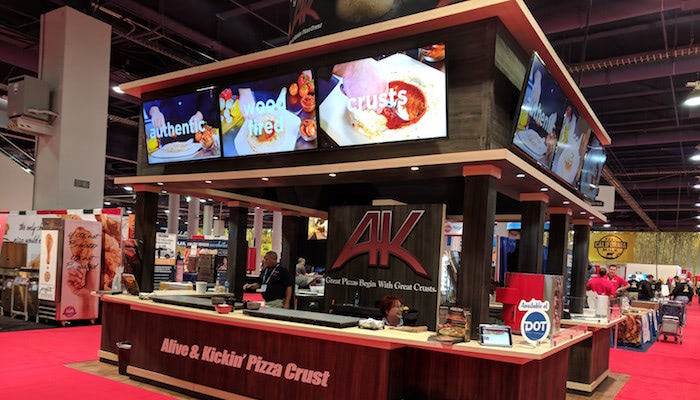 The 34th Annual International Pizza Expo is in the books! Even after attending for 20+ years, it provided us with a great opportunity to learn about what's happening in the industry and which general themes are shaping pizza for the next year.
Here are four trends that were top of mind with visitors at the Alive & Kickin' Pizza Crust Pizza Expo booth:
1. Simple, Clean Menu Items
Over the past few years, clean label has transitioned from food industry buzz to full-fledged customer expectation. This new normal has operators rethinking their menu items and the ingredients they use to prepare them, often opting for artisanal pizzas with minimally processed, farm-to-table meats and vegetables people easily recognize. Pre-made dough balls from Alive & Kickin' Pizza Crust fit squarely into the clean label trend with six all-natural, preservative-free ingredients — flour, water, yeast, sugar, salt and oil — and prep that consists of a mix-freeze-proof-bake sequence. Our new Authentic Wood Fired Crusts also satisfy the clean label and artisanal trends.
2. High Heat Ovens
High heat coal and wood burning ovens are enjoying increased popularity in 2018 across a variety of venues. The reason appears to be twofold, as these ovens provide an authentic, fresh pizza experience, and do so quickly — oven temperatures reaching 700℉ or more slash cook times to mere minutes. Capitalizing on high heat oven performance means using dough balls that will stand up to the hot-and-fast prep, like High Heat Dough Balls from Alive & Kickin' Pizza Crust. Specially formulated for high heat coal and wood burning ovens, these dough balls have a light crisp, beautiful color and bubbly texture.
3. The Restaurant Industry Labor Shortage
Foodservice professionals continue to struggle with finding and retaining workers in 2018. With the annual employee turnover rate averaging 73%, operators face stiff competition for qualified entry level and experienced employees. Technology and restaurant culture-based hiring practices are two ways many are attempting to narrow the gap between job vacancies and bringing new hires on board, although operators acknowledge ongoing hiring challenges.
4. Faster Service
In our "no downtime" society, mealtimes look a lot different than the everyone-around-the-table gatherings of past decades. Customers want food that keeps pace with their busy lives, and pizza is often the solution. Venues of many types — from delis to restaurants, take-n-bake, entertainment venues and more — are experiencing greater demand for pies that are served fast, fresh and at near grab-and-go speed.
These trends are sure to be top-of-mind for restaurant operators in 2018. For a comprehensive look at what's hot and what's not in the pizza industry, be sure to check out our brand new infographic, Fully Loaded: The State of Pizza Nation. Click to button below to access your copy!