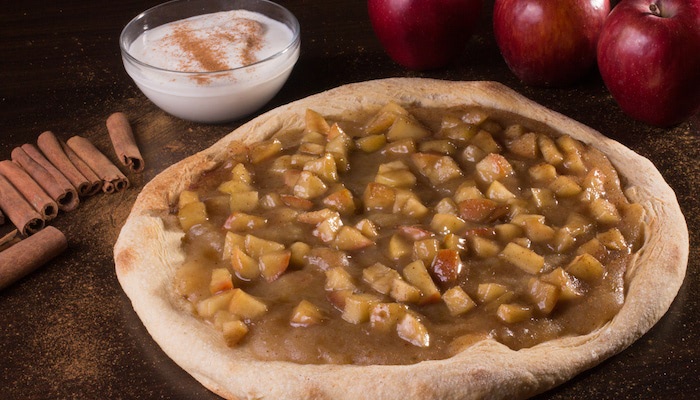 Heading into November, your customers' autumnal appetites have kicked into high gear. They want the traditional tastes of the season served in new and interesting ways.
It's a perfect opportunity to add a limited time "Fall Feast" to your menu that features three courses of favorite harvest time flavors bundled into one delicious meal. These recipes and products from Alive & Kickin' Pizza Crust couldn't make it any easier to delight customers and rake in profits.
1. Pumpkin Ricotta Shareable Bread
1/2 C pumpkin puree
1/2 C part-skim ricotta cheese
1/2 t garlic powder
1-1/2 C part-skim, finely shredded mozzarella cheese
3 T fresh sage, chopped

Preheat oven to 425℉. Roll dough ball to fit a 13" x 18" non-stick sheet pan. Combine pumpkin puree, ricotta cheese and garlic powder in a bowl until blended. Spread over the dough, leaving a 1" border. Sprinkle with shredded mozzarella cheese and sage. Bake 12-15 minutes until the cheese is melted and light brown.


2. Red Potato, Sausage and Rosemary Fontina Pizza
10 oz. dough ball
Extra virgin olive oil
2 garlic cloves, minced
8 oz. fontina cheese, grated
10 red potatoes, thinly sliced
1/2 t roasted garlic and rosemary/herb spice blend
1/4 lb. mild Italian sausage
1 sprig fresh rosemary leaves
Red pepper flakes
Kosher salt
Cornmeal


Preheat oven and pizza stone or baking sheet to 475℉. Rough out dough ball, stretching it to form a rough circle and place on a piece of parchment paper or surface sprinkled with cornmeal. Drizzle dough with olive oil, then sprinkle with half of the minced garlic. Layer a handful of the fontina cheese then layer half of the potato slices so they are slightly overlapping. Scatter the sausage in chunks on top of the potatoes then top with rosemary leaves. Season with half of the spice blend.
Bake for 10-13 minutes, or until cheese is melted and crust is golden. Sprinkle with more fresh rosemary leaves, a drizzle of olive oil and a pinch of kosher salt. Season with red pepper flakes if desired.


3. Caramel Apple Dessert Pizza
10 oz. dough ball
For apple filling:
2-1/2 C apples, peeled and finely diced
2 T flour
2 T brown sugar
1/2 t cinnamon
1/4 t nutmeg
For streusel:
1/2 C flour
1/2 C cold butter
1/3 C brown sugar
1/2 C oatmeal
Caramel sauce (to drizzle on top)


Preheat oven to 400℉. Peel and dice the apples. Toss apples with flour, brown sugar, cinnamon and nutmeg. Grease and lightly dust a pizza pan with cornmeal. Pat out the dough into a 12-15" circle. Lightly brush with olive oil. Spread the apples on top of the dough. Make the streusel by mixing together the flour and brown sugar. Cut in cold butter until it makes pea-sized crumbs. Gently stir in oatmeal. Sprinkle over apples. Bake for 20-22 minutes or until the apples are tender and the crust is browned. Let cool slightly. Serve warm with caramel sauce drizzle and vanilla ice cream, if desired.
To really get your customers into the spirit of the season, consider tying each Fall Feast purchase to a donation to a local food pantry or some other local charity. It's good food and a good deed!
Don't limit switching up menu items to holidays! Get the latest in industry buzz, on-trend ingredients, customer experience must-dos and more with our infographic, Fully Loaded: The State of Pizza Nation. Click the button below to access your copy now!