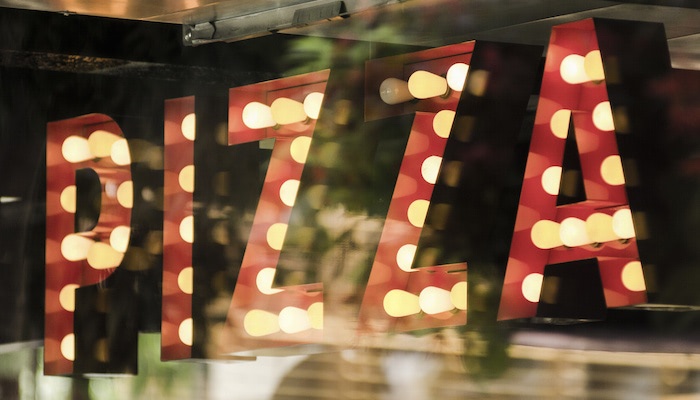 The pizza business is a competitive one, made even more so with the use of social media campaigns and mobile technologies to capture the attention – and mindshare – of patrons. Are small to mid-size pizzerias at a disadvantage in the age of the big guys' wide reach and the audiences' increasingly short attention spans? Not necessarily.
Don't panic. We're not suggesting you hire a full-time marketing person or invest big bucks into advertising. With a little creativity and some pre-planning, you can use non-traditional, "guerrilla" marketing tactics to increase brand awareness, attract patrons and make more money.
What's guerrilla marketing?
Guerrilla marketing, as the name implies, is rebellious. It rejects the traditional advertising channels like radio, television and standard print ads for the much more clever, fun – and economical – element of surprise. It focuses on combining high energy and imagination to memorably capture the hearts and minds of audiences, immediately engaging them with the brand.
This is a particularly effective strategy in the social media realm, as the buzz created is more likely to be shared and the product or service reaches a much larger audience than initially anticipated. Guerrilla techniques focus on reach rather than frequency to create successful campaigns, leveling the marketing playing field across all sizes of brands, shops and budgets.
Pair guerilla marketing with social media for even better results by downloading our eBook,
Can I be a guerrilla marketer?
There's no marketing degree needed to implement guerrilla marketing. However, it does require some research, creativity and a sense of timing.
Research: To craft an effective message for your pizza business, it helps to understand what the competition is offering (so you can offer something different); define your target market (so you know the best way to reach your audience); and know a little about what's happening in the foodservice industry, in general, and your market in particular (so your message and offers are relevant).
Creativity: Your approach to guerrilla marketing is uniquely yours. Do you want to be funny? Shocking? Sassy? Don't be afraid to be bold, but don't completely abandon your brand in establishing a tone. Also, remember you don't have to go it alone. Get your employees involved in a brainstorm – it's good for idea generation and for teambuilding.
Timing: Guerrilla marketing is all about surprise. Think "fish out of water" message placement that will catch patrons off guard. Is it a message scrawled on the paper towel roll in the restroom? Cardboard "coins" given with change? When it comes to this non-traditional approach, where and when the message appears is as important as what it says.
What types of guerrilla marketing tactics should I use?
The beauty of guerrilla marketing is that there are no rules that limit imagination or pigeonhole ideas into one particular industry. It all depends on the time, creativity and money you're willing to invest into any particular campaign. To give you a sense of what may work for pizzerias, here are some attention-grabbing ideas:
Co-couponing with a movie theater or ice cream shop where you hand out their coupons and vice versa, or both honor some type of "present a receipt" discount
Waitstaff T-shirts that have clever sayings or images – consider surprising every tenth patron with a free T-shirt or have an online giveaway
Delivery vehicles wrapped with colorful ads and branding
Posters/discount flyers distributed in patron-rich areas, like college campuses
Flash mobs take considerable coordination but make an impression – imagine a group of volunteer dancers showing up at a stadium to advertise your post-game pizza deals! They also have great potential to go viral on social media.
"Graffiti" stencils on roadways or sidewalks (with proper permission and painted with environmentally responsible paints) can be showstoppers. Domino's used graffiti in association with an online treasure hunt.
Randomly placed QR Code stickers that, when scanned, offer a discount or a free pie (have fun, but pay attention to ordinances and respect private property)
To give you an idea of what other restaurants have done, check out these examples of guerilla marketing put to good use by restaurants.
Inexpensive and fun, guerrilla marketing can be your versatile brand builder that also boosts sales. Find out how to pair it with the power of the Internet with tips from our eBook, Social Media 101: The Beginner's Guide for Pizza Restaurants. Download your free copy now by clicking the button below.