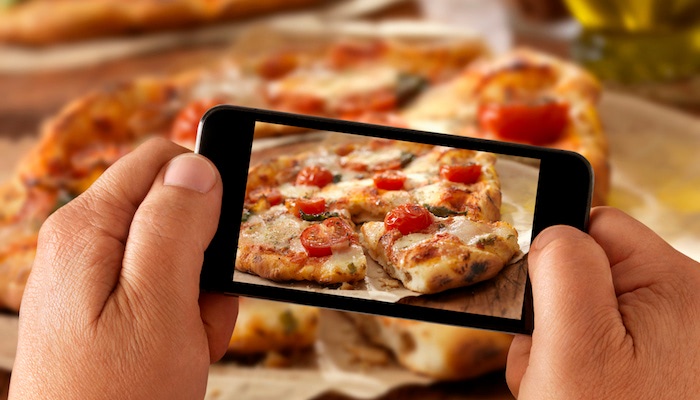 It's estimated that at least 80% of people search for restaurants online. Building a strong social network for your pizzeria is a must-do to keep pace with competitors and to grow business.
Using social media as a marketing tool isn't as complicated as you may think. Success lies in aligning your brand and goals with the appropriate social networks, and using best practices to consistently increase reach and visibility.
Best Platforms
The Internet is a big place, and trying to narrow it down to the best platforms for your brand and voice can be a little intimidating. However, with about 65% of people using Facebook, Twitter, Instagram and Pinterest, starting with where the majority of users interact is solid strategy.
Plus, these four networks are particularly restaurant-friendly. Here's why:
Facebook offers a "business page" option, meaning you can create a page designated to your pizzeria that your fans don't have to "friend you" to see. Also, you can track traffic and other performance metrics with analytics Facebook provides. The main benefits, though, are the ease with which you can interact with your followers and the ability to upload photos and videos. Remember, people eat with their eyes!
Twitter is known for short and sweet communication. You have 140 characters to get your point across, which is convenient for quick shout-outs about deals, information about locations, or other news. Like Facebook, Twitter is a great place to rely on visual storytelling. Tweets of tempting food photos and videos timed around lunch or dinner hours can really boost sales. You can also push out paid advertisements to specific targets, and create some quirky hashtags to encourage sharing and interaction with your followers.
Instagram is all about photos and hashtags. Think of it as a showcase for your food, your employees and your culture – all of which you capture and convey in casual photos. In addition, Instagram is a great loyalty tool. Cement relationships through photo contests that revolve around followers' love for your pizza or by responding to photos of your menu items that foodies post – all of which also increases social media shares.
Pinterest users are enthusiastic sharers of their favorite things. Make it easy for them to fall in love with and "pin" your pizzeria by creating a board where you talk about your food, share some recipes, and feature other related content you find interesting. Because Pinterest is driven by shared content, it is a perfect place for you to easily gain some online visibility.
Best Practices
Having social media accounts is one thing. Making them work to your best advantage is another. It takes some effort, specifically as it relates to time, content and communication.
Time
To keep people interested and engaged with your social networks, frequent posting is necessary – and that means a daily commitment to managing interactions.
Choosing to "divide and conquer" these duties among several people may sound like a good idea, but you run the risk of losing consistency in messaging and brand positioning. Instead, consider designating, or hiring, one person to head up all things social media. You'll find it to be time and cost-efficient.
Content
Okay, so you have online users' attention. What are you going to say?
Focus on your expertise – pizza and your pizzeria. Find and share some great stats about pies and tie it to a "deal of the day"; chat up the ingredients in your pies; snap some photos of employees and feature your workplace culture; maybe even share some pizza history or fun facts. Your followers are sure to devour fresh content.
You can even flip the script and instead of doing the talking, ask your fans what they think about a pizza-related topic.
Communication
You'll want to keep the conversations and content relevant to your brand and your patrons. Posting the latest viral video may be funny and it may get hits, but it doesn't bring you any closer to building your business or online following.
Build your pizzeria's social network with Social Media 101: The Beginner's Guide for Pizza Restaurants. In it you'll find innovative ways to use popular social media sites to engage patrons, share news and generate buzz about your pizzeria. Download your free copy by clicking the button below.