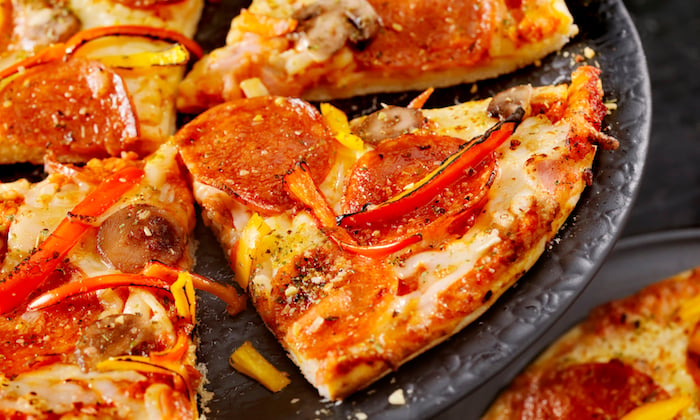 These days, entertainment venues are as much about the food as they are the events that draw people. Having food offerings that reflect customers' elevated "eatertainment" tastes can be lucrative. In sports stadiums, for example, staples like nachos and hot dogs command price points that include generous markups — up to 64% and 81%, respectively.1 Pizza is no slouch when it comes to profitability either, as a 75% margin is common.1
Food quality is part of the reason people are willing to pay premium prices. Quality of service is the other — fast and fresh equate to value, especially when it comes to pizza. These are all reasonable expectations, but how can you ensure you meet them during high-demand times?
Prepare with Par-Baked Pizza Crusts
Whether driven by hunger or a break in the action such as an intermission or halftime, traffic will increase in your venue at fairly predictable intervals. Demand will skyrocket during these times, so preparation is key.
Par-baked pizza crusts are the perfect solution for handling customer ebb and flow in entertainment venues. Operators can easily prepare pies ahead of peak rushes and keep pace with customer orders since par-baked crusts provide:
Easy storage and handling
Long shelf life
Exceptional integrity and hold times under warming lights or in refrigeration
Short final bake times and fast customer service
In addition, Alive & Kickin' Par-baked Pizza Crusts serve up quality and consistency. There's simply no guessing if your first pizza will be as customer-pleasing as the last slice you sell during a rush or normal service. You can count on the same flavor, texture, and performance without fail.
Put Versatility on the Menu
Serving exceptionally good pies quickly is a hallmark of using par-baked pizza crusts, but Alive & Kickin' products offer versatility in style, texture, and taste that allows you to build your offerings — and profits — even more. It's never been easier to go from a crisp, flaky ultra-thin to a rich, yeasty Sicilian-style dough with no extra prep time or customer wait.
Learn more about the benefits of using par-baked pizza crusts and all of the delicious offerings from Alive & Kickin' in Reinventing "Eatertainment" With Par-Baked Pizza Crusts: A Guide for Entertainment Venues. Click the button below to get your copy now!
SOURCE
1ShowBiz CheatSheet, These Are the Most Overpriced Foods For Sale at Sports Stadiums, February 1, 2018