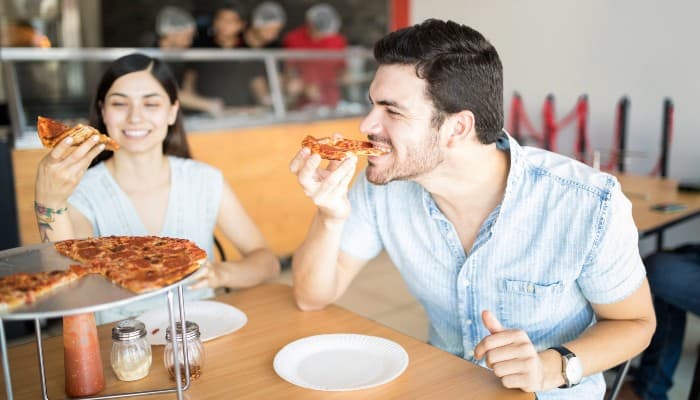 After a prolonged absence, people are excited to return in-person to cheer on their favorite sports teams, attend concerts, go to amusement centers, watch plays — basically re-engage with group activities in general.
That's not to suggest the doors of all entertainment venues are flinging wide open in response to the easing of pandemic-related restrictions. In fact, as COVID-19 virus variants emerge the Centers for Disease and Prevention Control (CDC) is reconsidering masking, social distancing, and other safety protocols.
But, for now, crowds will be — and have been — returning to some entertainment venues at or near full capacity.
Much like your customers, your team has likely been away for a while. It may take a little time to find your service groove again. Perhaps you find yourself short handed due to staffing changes related to the pandemic or other circumstances.
The point is, initially it may take a little longer to take care of your customers, so make sure your pizza is worth the wait. In the larger scope, you want to serve pizza that's worth the premium prices that customers are willing to pay for "eatertainment."
Gluten Free: The Better Better-For-You Crust Option
Roughly 32 million Americans have some type of food allergy, and "special diets" are the norm for 20% more. Others are simply choosing to adopt a better-for-you eating lifestyle.
Imagine the delight of customers who fall into one of these categories when you present them with a gluten free pizza option!
Alive & Kickin' Gluten Free Crusts forego all of the things that better-for-you eaters want to avoid — gluten, GMOs, preservatives — and serve up what they want: flavorful, delicately crunchable pizza!
You can really banish the "blah" when you choose to feature a variety of gluten free crusts from the Alive & Kickin' lineup:
Original Gluten Free is our delightful version of the taste that launched the gluten free pizza revolution
Original Gluten Free Raised Edge captures all of the craveability of our Original Gluten Free crust, but kicks up appeal with a pronounced outer rim
Cauliflower Crust is made with real cauliflower for exceptional taste and texture
Cauliflower Raised Edge combines Cauliflower Crust authenticity with a distinct, customer-pleasing outer rim
Seasoned Cauliflower is our only non-vegan gluten free crust and features a blend of mozzarella cheese, herbs, and spices for savory satisfaction
Personal Size Detroit Style gives mini-deep dish lovers a gluten free choice that rivals traditional options
Par-Baked Crusts: Value and Versatility
Par-baked crusts are the go-to for entertainment venues with good reason. They are the perfect make-ahead solutions for covering demand surges because par-bakes offer:
Easy storage and handling
Long shelf life
Exceptional integrity and hold times under warming lights or in refrigeration
Short final bake times and fast customer service
Plus, with Alive & Kickin' Par-Baked Crusts, it's so easy to go from a crisp, flaky ultra-thin to a rich, yeasty Sicilian-style dough with no extra prep time or customer wait. Versatility is the key:
Cobble Hill Raised Edge features pronounced outer rims in a medium thickness
Cobble Hill Thin and Ultra-Thin are crowd pleasers for customers looking for pizza with a light bite or a slightly less weighty crust with a distinctly crunchy short bite
Hand-Tossed Style DeliCatezze balances perfectly between thick and thin crust for customers who simply want it all
Providing unforgettable service and pizza will make your spot a destination for the "eatertainment" seekers! Find out more about choosing the perfect crusts for your pizza in our guide, Redefining "Eatertainment" With Par-Baked Pizza Crusts. Click the button below to download your copy now!