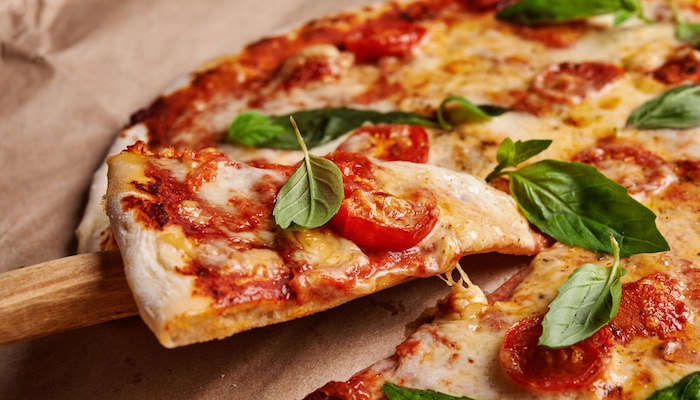 About 45 million Americans go on a diet each year. That's nearly 15% of the entire population probably putting pizza on their "no-no" list.
The truth is, pizza doesn't necessarily deserve the bad rap it gets from calorie counters. Prepared and portioned correctly, a slice of pie can serve up calcium, protein, carbs and other essentials for a balanced diet.
You can help your customers stick to their eating plan — and maybe even change their mind about occasionally indulging in pizza — by putting some "better for you" pie options on your menu. What's more, slimmed down choices give you the opportunity to showcase on-trend flavor profiles and toppings, and your servers a chance to upsell a "healthy pie" to customers who might otherwise opt for lower-margin salads or sharing appetizers to control calories.
To really ramp up interest and delight your health conscious guests, feature these delicious recipes that are under 300 calories per serving!


Turkey Pizza (6 servings; serving size is 1 slice; 275 calories)
1 t olive oil
1 C chopped onion
3 garlic cloves, minced
1-3/4 C canned crushed tomatoes
1/8 t salt
1/8 t crushed red pepper
1/4 C chopped fresh parsley
2 T chopped fresh basil
2 C chopped skinned cooked turkey
1/2 C (2 oz.) shredded provolone cheese
1/2 C (2 oz.) shredded part-skim mozzarella


Heat olive oil in a large nonstick skillet over medium-high heat. Add onion and garlic; sauté 4 minutes. Stir in tomatoes, salt, and pepper; bring to a boil. Reduce heat; simmer 15 minutes or until thick, stirring occasionally. Stir in parsley and basil. Remove from heat. Cool completely. Roll dough into a 10-inch circle on a lightly floured surface. Place dough on a (12-inch) pizza pan or baking sheet coated with cooking spray. Crimp edges of dough with fingers or a fork to form a rim. Spread tomato mixture over crust, leaving a 1/4-inch border. Top with turkey; sprinkle with cheeses. Bake at 400°F for 10 minutes or until golden.


Roasted Bell Pepper and Olive Pizza (12 servings; serving size 1 slice; 104 calories)
2 large red bell peppers
2 large yellow bell peppers
1/2 C sliced green olives
1/4 C chopped fresh parsley
2 t drained capers
2 t red wine vinegar
3/4 t olive oil
1/8 t black pepper
6 T (1-1/2 oz.) freshly grated Parmesan cheese

Cut bell peppers in half lengthwise, and discard seeds and membranes. Place bell pepper halves, skin sides up, on a foil-lined baking sheet, and flatten with hand. Broil 15 for minutes or until blackened. Place in a zip-top plastic bag, and seal. Let stand 15 minutes. Peel and cut into strips. Combine bell peppers, green olives, parsley, capers, red wine vinegar, olive oil and black pepper in a bowl. Divide the bell pepper mixture evenly among pizza crusts; sprinkle with cheese. Bake at 350°F for 7 minutes or until cheese melts. Cut each crust into 12 wedges.


Pizza Margherita (4 servings; serving size 2 slices; 298 calories)
1 10 oz. dough ball
1 t extra virgin olive oil, divided
1 garlic clove, halved
3/4 pound (about 5) plum tomatoes, thinly sliced
1 C (4 oz.) shredded fresh mozzarella cheese
1 t balsamic vinegar
1/2 C thinly sliced fresh basil
1/8 t salt
1/8 t black pepper

Unroll crust dough onto a baking sheet coated with cooking spray; pat into a 13 by 11-inch rectangle. Bake at 400°F for 8 minutes. Remove crust from oven, and brush with 1/2 teaspoon oil. Rub crust with cut sides of garlic. Arrange tomato slices on crust, leaving a 1/2-inch border; sprinkle evenly with cheese. Bake at 400°F for 12 minutes or until cheese melts and crust is golden. Combine 1/2 teaspoon oil and vinegar, stirring with a whisk. Sprinkle pizza evenly with sliced basil, salt, and pepper. Drizzle the vinegar mixture evenly over the pizza. Cut pizza into 8 pieces.
Pizza isn't the enemy for dieters! For more lighter fare recipes and practical advice on promoting the nutritional benefits of mindfully prepared and properly portioned pizza, read our eBook, How Pizza Fits Into Healthy Lifestyles. Click the button below to access your copy now!