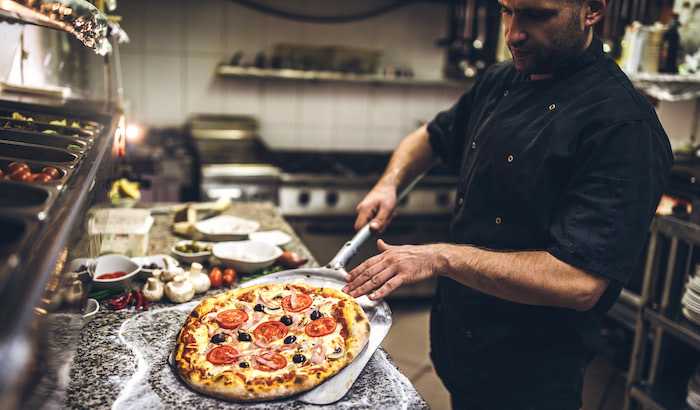 Pizzeria operators with multiple locations enjoy the loyalty and confidence customers place in their brand and food. Unfortunately, multiple locations can also mean multiplying the pain of restaurant industry challenges — obstacles on even the best day, let alone in light of unanticipated global events.
For multi-store operators (MSOs), transitioning to a "new normal" requires reevaluating the approach to business. Some challenges are well known and ongoing, while others are born out of necessity. Either way, if not considered and confronted, they could really put a dent in profits.
Challenge #1: Adjusting menu options
In light of the seriousness and unknown impact of the global pandemic, business is anything but usual. Shelter-in-place mandates are upending restaurant business models, forcing them to pivot quickly.
Solution
For MSOs, make-a-pizza kits are a great solution for safer-at-home diners. A neat package of dough balls (or par-baked crusts), cheese, sauce, and toppings offers all of the convenience of delivery — a hallmark of pizza's popularity — without the immediacy of having to eat a prepared pizza.1 Such innovative menu options add variety and address a range of problems for at-home customers. It also provides all of your locations with a competitive advantage. Given the uncertain environment, customers are faced with having to "dine in" daily. Why not give them every chance and reason to choose your pizzeria?
Challenge #2: Adding delivery service
Food delivery has gone from a free-will choice to a daily requirement for tens of thousands of people as states "lock down" in response to the global pandemic. Some pizzeria MSOs already have a delivery component. Others are adding delivery services to remain accessible to customers.
Solution
Delivery isn't solely a matter of getting drivers on the road. Taking steps to make sure customers, employees, and the pizza is safe requires measured steps. Establishing a consistent delivery protocol across locations is essential:
Orders and payment (including a delivery driver tip) are handled over the phone or online

Customers designate an outside location (by the door, on the porch, etc.) for "contactless" delivery

Delivery drivers drop off the food at the designated location without human contact — no exceptions

Challenge #3: Food experience consistency
Technomic's 2018 Pizza Consumer Trend Report notes that Americans love their pizza to the tune of 43% ordering it at least once a week.2 That's great news for multi-store operators. However, that same report also reflects a trend Technomic coined "the rise of the pizza connoisseurs," meaning people are fussier about their pies.
For MSOs, customer fastidiousness raises the stakes. Consistency matters. Customers want what they want, prepared in exactly the same way, regardless of the location they visit. Any "surprises" are unpleasant, and surely do not go unnoticed.
Solution
Maintaining food standards and providing a food experience that meets customer expectations starts with managing food prep. Scratch-made dough can be a huge stumbling block for multiple locations since dough makers and their particular mixing styles vary, even when trained on your house recipe.
Transitioning from scratch-made to pre-made dough balls serves a dual purpose. It eliminates crust consistency issues and also frees back-of-the-house team members to complete other prep tasks. The latter is particularly beneficial in helping pizzeria MSOs better cope with labor shortages. Aside from the ongoing industry struggle for workers, the pandemic has also put MSOs in the unenviable position of having to lay off workers and/or implement hiring freezes. Whatever the cause, staffing minimums mean maximizing time and skill sets.
The new normal brings challenges for pizzeria MSOs that, for the most part, fall on the shoulders of your team. See what we've learned with our Lessons COVID Has Taught Pizza Operations eBook. Click the button below to access your copy now.
SOURCES
1Restaurant Business Online, What today's pizza customers want, April 19, 2018
2Technomic, Latest Consumer Trend Report for pizza shows competition heating up, April 2, 2018