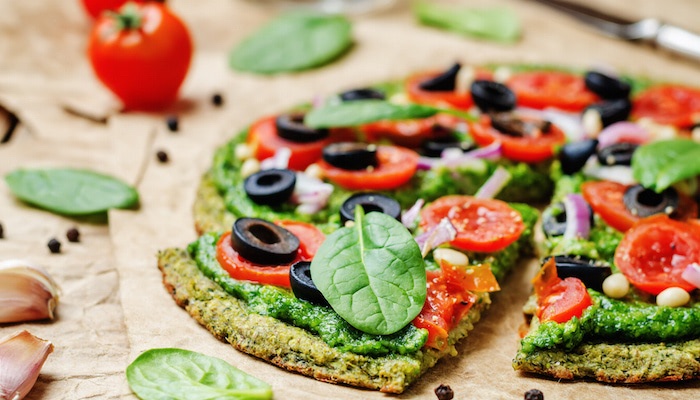 When summer's in full swing, your patrons likely crave lighter fare that features fresh, crispy textures and colorful seasonal ingredients rather than heavy foods or meaty pizzas. Luckily, it's relatively easy for your pizza shop to satisfy those cravings!
A walk through a typical farmer's market these days reveals an abundance of summer's harvest, not to mention mouthwatering artisanal cheeses, cured and exotic meats and more. Offering these types of ingredients to your patrons can generate renewed excitement about your menu, and luckily specialty food distributors are picking up on the trend as well.
Many food distributors are responding to the desire for more artisanal flavors and fresh ingredients by offering unique varieties of fruits, vegetables and other seasonal items, making the possibilities for your pizzeria to create a farm-to-table atmosphere endless. Here are a couple fresh recipes from the pizza pros at Alive & Kickin' to help you take advantage of these seasonal trends.
Squash Blossom Pizza
Ingredients
1

Dough Shop® by A&K 8oz. dough ball

1/2

summer squash, thinly sliced




6

squash blossoms, stems and stamens removed

4T

pesto sauce

(

Make your own

with fresh basil!)

Handful

grape tomatoes sliced in half

1 small

red onion, sliced

6 oz.

shredded mozzarella

1/3C

shredded Parmesan

1/3C

ricotta cheese

5

whole basil leaves

2T

Olive oil

Salt and pepper to taste
Directions
Hand stretch the properly proofed pizza dough ball to 11–12". Spread pesto sauce evenly. Sprinkle mozzarella and Parmesan evenly over the pesto. Arrange zucchini, tomatoes, onion, squash blossoms, and basil leaves on top. Brush or drizzle with olive oil. Distribute small spoonfuls of ricotta over the pizza. Season with salt and black pepper to taste. Bake at 450º for 12 minutes.
Expert prep tip: After slicing the summer squash, sprinkle with salt and let drain for about a half hour, then gently squeeze any excess liquid before placing on pizza.
Peach, Pepperoni and Gorgonzola Pizza
Ingredients
1

Alive & Kickin Cobble Hill 12" parbaked pizza crust

1T

extra virgin olive oil

3T

bacon Pieces

X

pepperoni slices

(or substitute Canadian bacon for a Hawaiian pizza twist)

⅓C

crumbled Gorgonzola cheese

1 med.

apple, peeled, thinly sliced

Arugula as garnish (optional)

1 oz.

balsamic vinegar reduction

1 caramelized red onion
Directions
Brush olive oil evenly over crust. Top with ¼ cup mozzarella, bacon, gorgonzola and peaches. Top with remaining mozzarella. Bake at 400º for 11 minutes until crust browns. Remove from oven and drizzle with balsamic reduction and garnish with fresh arugula.
Balsamic Vinegar Reduction Directions: Place ⅓ cup balsamic vinegar in small saucepan over medium-high heat; cook until reduced to about 2 tablespoons (about 5 minutes).
There's no end to the creative combinations of refreshing summer toppings. Give seasonal recipes a try, and promote them as "limited time" menu offerings to patrons!
Check out our free eBook, Recipes for Pizzerias for additional ideas to reinvigorate your menu and delight your customers with exciting flavor profiles. Get your copy now by clicking the link below!