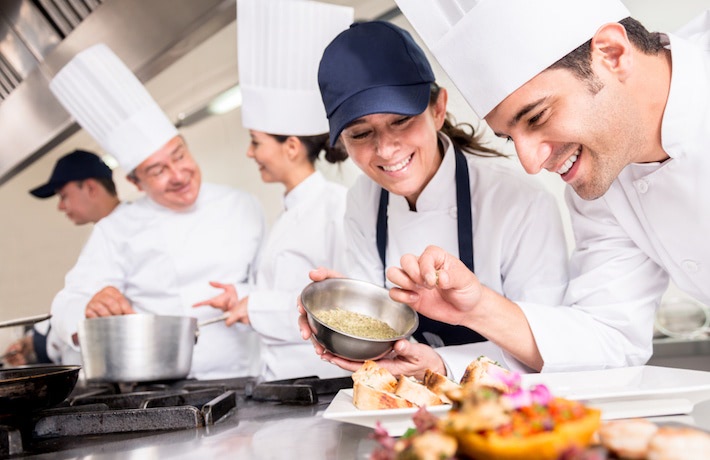 Losing a good employee not only disrupts your operations; it impacts your bottom line. A study by the Center for Hospitality Research at Cornell University estimates that the true cost of staff turnover could be as high as $5,864 per employee when factoring in hidden productivity loss, recruitment, training time and other expenses.
The long hours, weekends, fast-paced environment and wages all play a role in why so many restaurant and foodservice employees seek other employment. But studies show the reasons employees stay are more often linked to how much they enjoy the work and, just as importantly, how appreciated they feel doing it. Deliberately take time to demonstrate some of these restaurant employee appreciation tips and see your retention rate improve:
Peer Recognition
Get a whiteboard and encourage employees to write notes of encouragement for fellow workers. Words have incredible power — a praise for how a server handled a difficult customer or a note about how well someone ran the kitchen can be fuel for someone's soul.
Flexible Hours
Talk with your staff about what desirable schedules look like for each and try to accommodate as much as is feasible. When possible, provide consistency from week to week, and rotate undesirable hours such as holidays. Consider using a scheduling software to help manage this aspect of your operations.
The "Bob" Special
Maybe an employee came up with a unique and tasty combination of toppings for a pizza. Offer their recipe as a limited-time special and name it after them. Post about it on social media with a photo of your employee making it or guests enjoying it. You might be surprised — an innovative idea may lead to a regular menu item.
Keep it Private
The old adage of "praise publicly, criticize privately" goes a long way in helping even a less-than-stellar employee succeed. While it may make for good reality TV, yelling at employees in front of others is never a good idea. Address situations as needed in the moment, but always take employees aside to address performance issues. Not only will they feel respected, but other employees will notice and feel less angst the next time they make a mistake.
Make it Fun
Create opportunities for your team to express themselves and add a little competition, too. Around the holidays, have a white elephant gift exchange or an ugly sweater contest where the winner gets a gift card or day off. Celebrate other events throughout the year including staff milestones and birthdays, or plan inexpensive team outings to build camaraderie.
Thank You
A heartfelt thank you that details why you're thankful can go a long way in motivating employees to go above and beyond, and costs nothing. Get specific... "You have no idea how thankful I am that you put away those boxes without being asked."
Get Input
Are you trying out a new recipe? Have a tasting session and seek your employees' input and suggestions. Thinking of replacing booth upholstery in the dining room? Seek the advice of employees who you feel have a sense of style. Seeking input about your business decisions gives employees a sense of ownership and pride.
Appreciation Fund
Did a customer tell you how great their server was? Was there an online review that extolled the friendliness of your pizza delivery person? Establish a staff appreciation fund — every time you hear of an employee excelling, put a little cash aside (your employees don't even need to know this fund exists). When an appropriate time comes, use some of the money to host a staff outing or treat everyone with a year-end bonus or other gift.
Continuing Education
Invest in your employees by offering opportunities for continuing education such as safe serving training for bartenders, sanitation and food handling training for kitchen staff, or even drivers safety training for delivery drivers(insurance companies are happy to provide this).
Implementing these tips can foster a supportive atmosphere which helps build loyalty and reduce turnover. When employees feel appreciated and respected, it results in higher morale and better customer service. In the end, happy employees lead to happy customers.
Equipping your employees with the skills they need to deal with unhappy customers is another way to help them feel appreciated and empowered. Download our Dealing with Unhappy Customers Tipsheet by clicking the button below.