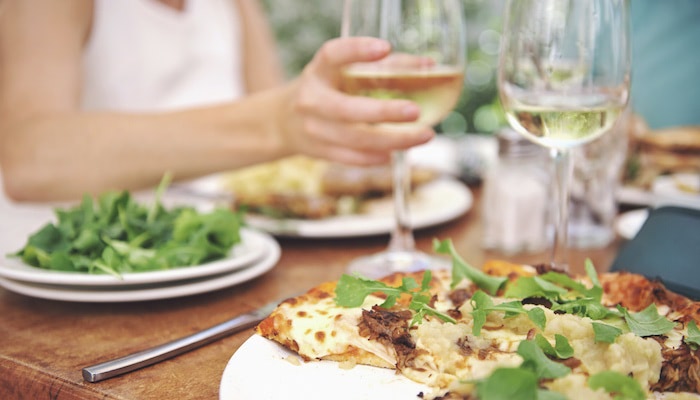 This article was originally published in May of 2016 and has been updated for 2018.
Rising temperatures are no reason for your sales to cool off. With just a few simple seasonal tweaks to your marketing messaging, menu offerings and promotional events you can make more money all summer long, no sweat!
Refresh the menu with seasonal ingredients
Take advantage of the colorful and tasty fruits and veggies that are in season with special "beat the heat" menu items, like fruit dessert pizza or veggie-centric appetizer flatbreads chocked full of summer squash, greens and other summery favorites. You may also consider featuring a few pizz'alads for a cool twist on your popular pies.
Create summer party package deals
Encourage bulk sales by offering a one-stop solution for summer parties and picnics. Bundle pizza, soda and dessert with disposable plates, utensils and a classic red-and-white checked plastic tablecloth into one fabulous carryout deal for patrons on the go.
Offer a summer wine or microbrew tasting
Partner with a local winery or brewery (or both!) to host a fun, one-night "summer school" in wine and beer tasting, along with a course on pairing beverages with select pies. It's a great way to reach a new customer base and also show your commitment to supporting local businesses.
Promote online ordering and delivery
Those lazy, hazy, crazy days of summer will entice some people to stay home and work in the yard, lounge by the pool or just relax with family and friends. The last thing they'll probably be doing is cooking elaborate meals, so make it easy for them to enjoy your pies! Promote online ordering and free delivery within a certain radius of your restaurant.
Make the experience truly unique with some "dog days of summer" fun! You can even stock delivery drivers with frozen non-dairy dog treats to include with deliveries to homes with furry family members.
Celebrate offbeat summer food holidays
The national summer holidays have their fair share of parades, picnics and other fanfare. It's your chance to separate yourself from the competition by claiming holidays like National Macaroni Day (seriously, it's July 7) as your own. Make a big deal about it on social media and follow up in your restaurant with appropriately themed offerings and special menu items or offers. If none of the summer holidays appeal to you, go ahead and invent one, like "Solstice and a Slice" day to usher in the first day of summer.
Embrace the great outdoors
If your restaurant has a patio or deck, it's time to fling open the doors for some sun and food fun. No outdoor space? No worries! Add some bright indoor décor to capture the essence of summer — think breezy beach themes, luaus or sun-kissed days in the tropics. Give servers some flair like sunglasses, leis and vivid T-shirts to really set the scene, and surprise your patrons with random summer-themed giveaways and promotions.
Provide some entertainment
Whether it's karaoke, live music, limbo night or a pizza trivia competition, book some events that will create buzz and draw patrons to your place. You could even tie in the community by sponsoring a 5K fun run or volleyball league and make your restaurant the post-race/match gathering spot for refueling with pizza and drink specials. On event nights, take advantage of the extra daylight and extend your hours to really keep the energy — and money — flowing.
Like summer, these opportunities will be gone before you know it. Plan ahead to roll out a few of these suggestions and watch your sales sizzle.
For more tips on how to successfully update your menu, download our eBook, The When, Why and How of Menu Upgrades. Get your copy now by clicking the button below.