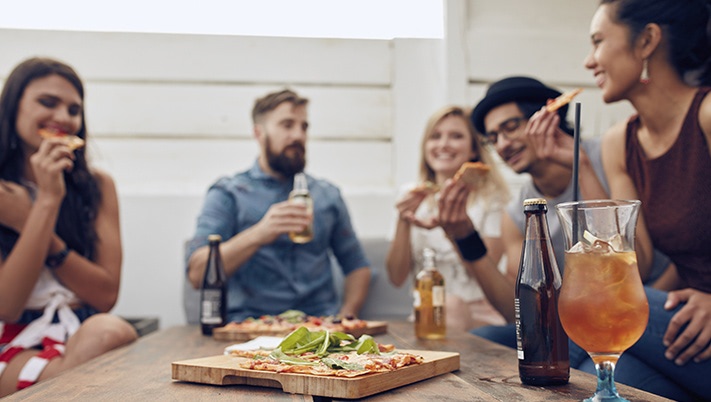 These days, it's common to associate customer relationship-building with gaining more social media traffic and followers. Undoubtedly, social media plays an important role in business. But, to paraphrase the Cheers TV show theme song, "Sometimes, patrons want to go where everybody knows their names."
Creating an experience that makes patrons feel valued – both on special days like their birthdays and every time they visit your restaurant – goes a long way in building long lasting relationships. So much so, in fact, that award-winning celebrity chef and restaurateur Tom Colicchio describes cultivating a group of regular, loyal customers as "the lifeblood of the restaurant business."
So, how do you get some of that lifeblood pumping in your pizzeria? Here are five easy ways to show (and feel) the patron love:
Build Loyalty Programs
Offering free items or discounted meals for birthdays and milestone events (anniversaries, 1,000th customer, etc.) and purchase rewards programs are proven patron pleasers. Implementing these programs requires some coordination, but has gotten considerably easier thanks to apps designed to boost customer loyalty.
You can also build loyalty without the formality of a program simply by engaging with your patrons to learn their dining preferences, and making a few mental notes. Next time your guests arrive, surprise them with a bottle of their favorite wine – chilled and at the table before they order it – or keep that favorite off-menu dessert they mentioned on hand for a sweet treat. The personal touch goes a long way in converting patrons to enthusiastic regulars.
Support the Local Community
Restaurants, by nature, are integral parts of their communities. Actively dedicate yourself to supporting local businesses, schools and area creative talent. Make your brand synonymous with sponsoring community events and causes. You'll feel great, and your patrons will frequent an establishment that shares the desire to make the world outside their doors a better place. Practicing sustainability is an amplification of your commitment to doing the right thing for the community, with the added benefit of reducing overall operating costs.
Good deeds attract loyal patrons, as does great food. Establish relationships with local or regional food purveyors and feature their ingredients on your menus with some fanfare around their freshness and connection to the area.
Host Theme Nights
Give your patrons a little something extra to look forward to when visiting your restaurant. Schedule some recurring theme nights, like "Play a Board Game" Wednesdays, or All-you-can-eat Friday night pizza buffets to build recurring traffic. Mix it up from time to time, too, with random events that have a festive dress component, like a mid-summer Hawaiian pizza luau or a kids' "Dress Like a Super Hero" night. Feeling artsy? Sponsor an open mic night or book signing. Creating memories is as delicious as the food to your patrons.
Value Your Employees
Your team, particularly those in the front of the house, is vital to how patrons perceive and engage with your brand. If they are genuinely excited about their jobs and your pizzeria, that enthusiasm translates to your patrons. Getting to know and care about your staff on a personal level gives them a base of trust to work from, and their commitment grows exponentially. Team building activities, service-based rewards programs and opportunities to freely communicate "up the ladder" to management reinforce a sense of ownership, pride and interconnectedness.
Seek Customer Feedback
When you ask patrons about their experience, take their responses to heart. Gathering information ranging from general responses about satisfaction levels to specific candor about things you're doing (or not doing) great, or might consider incorporating to stay on-trend helps you see your operation through your patrons' eyes – and gives you truthful advice upon which to build actionable items. For your patrons, sharing their thoughts helps them feel connected to your pizzeria and valued beyond check totals.
It's important to note that implementing these loyalty boosters are even more powerful when paired with your social media efforts. A loyalty program with an online component like coupons, online feedback surveys or generating some buzz about your theme night are just a few great ways to align all of your marketing tools.
Customer loyalty is top of mind for industry professionals at all levels, as suggested by the "Evolution of Customer Loyalty" roundtable that influential culinary professionals participated in during the 2014 Food and Wine Classic in Aspen, Colorado. It should be top of mind for you and your operation, too.
Start with taking your staff from servers to passionate brand advocates using our Waitstaff Training Guide. Click the button to download your free copy.